The owner of the Washington, D.C.-area gym chain Solidcore was fuming when she found out First Daughter Ivanka Trump took her exercise class, writing Thursday on Facebook that Ivanka's father, President Donald Trump, "is threatening the rights of my beloved clients and coaches."
Anne Mahlum, founder of Solidcore, took to Facebook to express her outrage after learning that Ivanka Trump chose her gym for a workout class and used an alias to hide her identity, the
Washington Examiner
reported
.
"What you do when you find out Ivanka Trump just took [Solidcore], but used an alias to sign up for class? You reach out and ask for a meeting," Mahlum wrote. "While I don't know her and I always seek to understand … I do know her father is threatening the rights of many of my beloved clients and coaches and as a business owner, I take my responsibility to protect and fight for my people very seriously."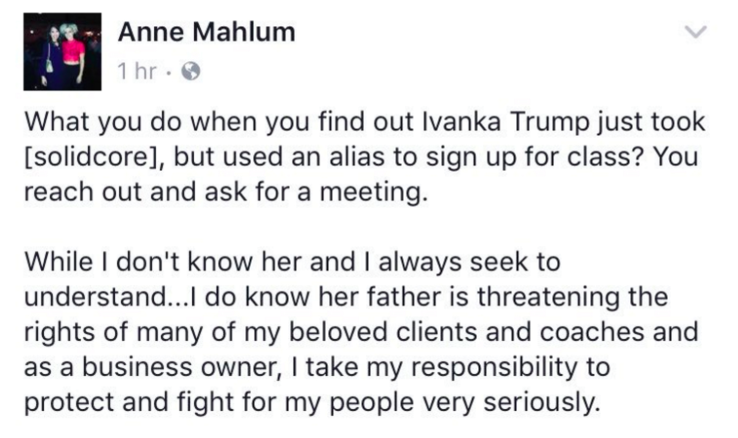 Mahlum deleted her post by Friday afternoon, the Examiner noted, but not before she received Twitter backlash for her comments.
Solidcore is not the first business to try to distance itself from the first daughter. The department-chain store Nordstrom discontinued selling her clothing line, claiming the decision was due to lack of sales.
President Trump lashed out at Nordstrom on Twitter, writing that his daughter was being treated "unfairly."
The president's counselor, Kellyanne Conway, also defended Ivanka during an appearance on "Fox and Friends" on Thursday.
Conway encouraged Americans to "go buy Ivanka's stuff," which some said was a potential violation of federal ethics laws.
"It's a wonderful line. I own some of it," Conway said. "I'm going to give a free commercial here. Go buy it today, everybody. You can find it online."
Mahlum established Solidcore in 2013, and has expanded her business in the D.C., Virginia, and Maryland area. Since opening, she has employed 16 full-time employees and over 100 part-time employees and contractors, according to the Examiner.
Ivanka Trump has not made a statement on whether or not she is a client of Solidcore, or whether a meeting with Mahlum will take place.