A huge reason for the success of Western Civilization is that our Judeo-Christian faith focuses on improving yourself. You are made in God's image. Act like it. Look inside yourself. Are there improvements that you could make in your soul? Well sure, but that's really hard. But with God – the creator and master of the entire universe – watching you and taking a personal interest in your soul, perhaps you might give it a try. So we work at it. With varying degrees of success, to be sure, but we work at it. Our religious leaders are constantly imploring us to study the lessons of the Bible, and take them to heart. Don't criticize others when you are so flawed. Let he who is without sin cast the first stone, and so on. Fix yourself first. A society full of Jews and Christians who truly believe in their God and seek to please him; that society is generally a pretty nice place.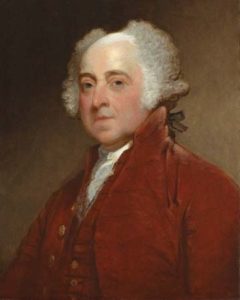 John Adams was characteristically insightful when he observed, "
Our Constitution was made only for a moral and religious people. It is wholly inadequate to the government of any other
." I would argue that this is true not only of our Constitution but also of any other government ever conceived.
Adams' point is that if the behavior of people is not governed by their religion, then it must be governed by their government. He was a student of history. He knew that that does not end well.
In Matthew 22:21 Jesus said, "
Render to Caesar the things that are Caesar's; and to God the things that are God's
." He understood that government was necessary to manage the affairs of men, but when it comes to managing really important things, like our souls, only God could do that. I would presume that students of the 20
th
century could reach no other conclusion.
Because government, understandably, takes a different approach. The government manages citizens and things, not souls. So it is essentially in the business of telling people what to do, and what not to do. What else could the government do? There is no other way.
In Christianity, you seek to improve yourself. In government, you seek to improve others. Modern progressives and others who have a great deal of faith in the power of government to improve our lives should stop and consider this very important distinction. And they should consider how well this has worked in the past.
Over the course of history, this has been tried in many different ways. Tribes governed by chiefs. Kingdoms governed by royal families. Socialist systems. Communist systems. And so on and so forth. They all look different on the outside, but on the inside, they're all the same. They involve telling other people what to do. And for whatever reason, this doesn't seem to work very well. In fact, these systems seem to rapidly, and consistently, devolve from ineffective to catastrophic. Every time. There is no other way.
It would appear that the only way to improve a society full of people is to improve the actual people. One at a time. From the inside out.
Teachers recognize this phenomenon. A kid from a good family is easy to teach. A kid from a horrible home will be either very difficult or impossible to improve, no matter how talented and dedicated his teachers are. The damage is done. There's nothing to work with. And good teachers can recognize which kid is which by the end of the first week of school. They know which kids will be in college prep courses, and which will be in detention. They do their best with everybody, of course. But they know how things will turn out. They've seen it before.
So as we abandon our religious faith as individuals, we hope that improved government can maintain this very nice society to which we have been accustomed. And despite its flaws, our government is certainly one of the best in the world.
But it doesn't matter. The damage is done. There's nothing to work with. Teachers would understand. John Adams was right.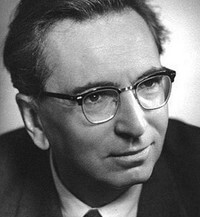 Viktor Frankl felt that freedom was a negative aspect (a lack of something – a lack of oppressive government), and that the corresponding positive aspect was responsibility. He said, "I recommend that the Statue of Liberty on the East Coast be supplemented by a Statue of Responsibility on the West Coast." He didn't understand how one could exist without the other.
The government can't create 300 million responsible, moral individuals, by fiat. That is the work of parents, and of the church. There is no other way.
We've tried other ways. Those who believe that morality and ethics can be created by pure reason should stop and think about that if they study the history of the 20
th
century. Or even studied the history of any era, if you think about it.
To look deep into oneself, and critically judge what one sees, and then undertake to improve upon it to the very best of your ability – that is agonizingly difficult. The government cannot encourage us to do that. Only religion can.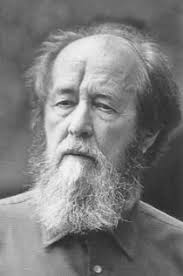 On the contrary, if our behavior is governed by a system of laws, then it is only natural to work around and within those laws as effectively as possible. Most people are reasonable, and that is a reasonable thing to do. But even if your behavior is reasonable, and even legal, it may not be ethical. Which seems harmless. But as it turns out, it's not harmless. Thousands of years worth of brilliant men, from Moses to Solzhenitsyn, have spent their lives explaining to us why this is so incredibly dangerous.
We pursue wealth and technological advancements to make our lives easier. And it works. I don't walk to work. I drive a car. With air conditioning. It's nice. Much easier than walking. And I like easy. We all hope to avoid things that are difficult. That effort to make difficult things easier is human nature, and it leads to many of the things that make our modern lives so pleasant. We prefer easy things over difficult things.
So we naturally prefer the government to religion. Religion is hard. Improving myself is really hard. It'd be so much easier for me to just tell other people what to do. Would I rather seek out the worst flaws of my character and endure the agony of brutal self-criticism and go through difficult work needed to improve them? Or would I rather put a political bumper sticker on my car and go vote? One can understand why so many people choose the bumper sticker.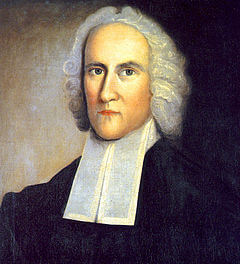 Who will get more votes? The 1700's theologian Jonathan Edwards, whose stump speech is "Sinners in the Hands of an Angry God?" Or Bernie Sanders, who says you can do whatever you like, and he'll give you whatever you want? Actually, forget Jonathan Edwards. A nice, unthreatening Republican can't win elections if he simply suggests that someone has to pay for all of Bernie's programs. That sounds hard. We, naturally, prefer easy.
Some will choose the bumper sticker. They always have. Understandably. But what happens when a quarter of us do that? Or half? That's when things get dicey. And then, inevitably, violent.
Choosing the easy path makes things difficult, eventually. It always does.
There is no other way.
---
When I have an idea for a post, I often just write it as it appears in my head – just dump it onto the page, with little concern for quality. I type fast. This part generally takes 20-30 minutes. No more, because I get bored as quickly as I type.
Once my thoughts are on the page, I save it, and come back to it in a week or a month, when I feel like posting something. At that point, I'll generally reorganize it, cut its length by half or so, and clean it up in an effort to achieve, well, coherence, at least. This part takes another 20-30 minutes, usually, unless my original version was total garbage. If this part takes more than 30 minutes, I'll generally consider that post hopeless, dump it, and try another old first draft to work on, if I'm still in the mood.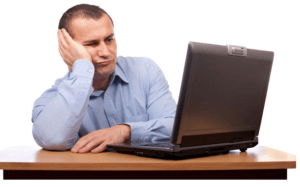 I came back to this post today to clean it up, and thought, "Eh, whatever." I've been doing that more and more recently. Sorry about that.
So to paraphrase somebody famous that I'm too lazy too look up, "Sorry this is so long, because I was too lazy to make it short." Or something like that. It's easier to just post it.
Again, we often choose the easy way. And that leads to sloppy essays and deadly government.
You're lucky I'm just writing an essay, and not writing policy.
Published in General