Tuesday, December 7, 2021
Posted by

jerry
at 8:59 AM
0 comments

Monday, December 6, 2021
The tactically brilliant but strategically crazy attack on Pearl Harbor unleashed incalculable furor against a once sophisticated Japanese empire, which foolishly attacked the United States at peace.
Most Americans once were mostly in agreement about what happened on December 7, 1941, 80 years ago this year. But not so much now, given either the neglect of America's past in the schools or woke revisionism at odds with the truth.
The Pacific war that followed Pearl Harbor was not a result of America egging on the Japanese, not about starting a race war, and not about much other than a confident and cruel Japanese empire falsely assuming that its stronger American rival either would not or could not stop its transoceanic ambitions.
On an early Sunday morning at Pearl Harbor, Hawaii, the Japanese Imperial Navy conducted a tactically successful, but strategically imbecilic, surprise attack on the U.S. 7th Fleet—while at peace and without a declaration of war. The assault—synchronized with subsequent bombing and invasions of the Philippines and British-controlled Malaya, Singapore, and Hong Kong, and some Pacific Islands—did not just ensure an existential Pacific theater war between Japan and America. It also prompted the entry of the United States on December 11 into the European theater of World War II, after both Italy and Nazi Germany first declared war on America. Had the latter not done so, it is arguable that the United States would have instead concentrated on Japan alone and might have knocked it out of the war even earlier.
Revisionists often cite conspiracy theories that the Roosevelt Administration lured Japan into the war by previously limiting oil exports to Tokyo (a mere five months before Pearl Harbor) or by foolishly moving the 7th Fleet from San Diego to a deliberately exposed and not so well defended Pearl Harbor.
Posted by

jerry
at 7:34 AM
0 comments

DECEMBER 06, 2021
In case you thought the endless catch-and-release of Darrell Brooks, the suspect in the Waukesha parade massacre who reportedly killed 6 and injured 60, was an aberration, think again. It's a rampant problem in all 50 states, particularly in Indiana.
Last week, 20-year-old Deonta Williams was arrested on two counts of attempted murder after he allegedly stabbed two Indianapolis police officers near the Indiana State Fairgrounds on Wednesday. Williams told investigators that he lured the officers to the area by calling in a fake report of a white man harassing him. When the officers went to search for the phantom attacker, Williams admits he stabbed the officers in the neck and chest. Both officers are expected to recover, but Williams told investigators he wanted to kill one police officer because he was upset about a medical bill the city of Indianapolis sent him.

According to WTHR, Williams was arrested for burglary in January and had his bail reduced from $25,000 to $750 by a local judge. Then, he violated the terms of his release and was arrested again in July for reported criminal mischief. The obvious question is why people already given a second chance are released again when we know they are the most likely to commit violent crimes.
It turns out that the Bail Project, a pro-violent criminal organization that strives to keep violent criminals on the streets at all costs, bailed him out in March. As WISH reports, the Bail Project had previously bonded out two other violent career criminals who are now accused of murder.
The sad reality is that these are the sort of NGOs that have been driving the criminal justice policy on both sides of the aisle in all 50 states over the past decade. As Rick Snyder, the head of the Indianapolis Fraternal Order of Police, observes, these organizations need to be subjected to the same regulations as private bail bondsmen. All too often, they bail people out and the suspect never shows up for court and is able to remain free. These NGOs need to be held responsible.
It is becoming abundantly clear that we need to toughen mandatory minimums for repeat offenders, tighten — not loosen — bail laws, and create a much stronger three-strikes-and-you're-out law than we did in the 1990s. The time has come for all 50 states to pass legislation in January when the legislatures reconvene that will toughen bail laws in general and end bail for anyone who already violated their bail terms after the first crime. This would likely prevent the majority of violent crimes in this country.
Most violent criminals don't come out of nowhere. They are known wolves. One study in Sweden in 2014 found that 1% of the criminals were responsible for 63% of all violent crime convictions. Researchers found that if all violent criminals were locked up after a third conviction, "more than 50% of all convictions for violent crime in the total population would be prevented."
Just how much is the "bail reform" movement responsible for the growing crime wave? CWB Chicago, which reports assiduously on the Chicago crime scene, created a list of 53 known Chicago criminals who were arrested for murder or attempted murder this year, affecting a total of 75 victims after having been released on bail, or without even having to post any cash bail. Many of these victims were children. The latest bailed-out criminal charged with attempted murder is 19-year-old Maalik Lumpkins, who is charged with shooting a 1-year-old. Several months ago, Lumpkins was charged with felony aggravated unlawful use of a weapon. But because in Chicago they don't take gun crimes seriously and only oppose guns for those defending themselves from these criminals, Lumpkins was released on his own recognizance.
The release of violent criminals has become the catalyst for reversing New York's once miraculous decline in crime. Last week, a Columbia University graduate student and an Italian tourist were stabbed in unprovoked attacks in what used to be a very safe part of Manhattan. The suspect was on supervised release for viciously beating another innocent person and had been arrested 11 times since 2012. Second chances, you say?
Fox News reported last week that Jacqueline Avant, wife of Grammy Award-winning music executive Clarence Avant, was killed in her Beverly Hills home by another paroled career criminal. The suspect, Aariel Maynor, was released from prison just weeks before, after serving three years of a four-year sentence for a 2018 robbery and grand theft, which in itself was only made possible his early release from a 2013 sentence for robbery and causing great bodily injury.Another way the pro-criminal crowd is flooding the streets with criminals is by letting them off on mental health diversion programs. Eric Ramos-Hernandez was seen on video in 2020 punching, kicking, and shoving 84-year-old Rong Xin Liao off his seated walker while waiting for a bus in Santa Clara County, California. Despite the victim suffering life-altering wounds, Ramos-Hernandez was released seven months later and actually re-arrested and released for another crime thereafter. He was released because the DA's office claims the victim went along with a plan to place the suspect in a mental health diversion program, a claim the victim's family vehemently denies. If someone truly is incorrigibly violent because of mental health problems, then he certainly needs to be taken off the streets – whether in a traditional prison or a mental ward.
Last week, Milwaukee County District Attorney John Chisholm
blamed
the release of Darrell Brooks on a "human error," but the only human error involved is a decadent ideology that believes in de-incarceration at all costs. This gutter ideology has permeated both parties, including allegedly conservative think tanks and even the Trump administration. It's time to reverse this fatal error.
Posted by

jerry
at 6:48 AM
0 comments

Sunday, December 5, 2021
Posted by

jerry
at 10:18 AM
0 comments

Rep. Alexandria Ocasio-Cortez said 'a lot of these allegations of organized retail theft are not actually panning out'
New York Rep. Alexandria Ocasio-Cortez was slammed by Republicans and business leaders following an interview where she cast doubt on whether rampant smash-and-grabs are actually occurring.
"A lot of these allegations of organized retail theft are not actually panning out," Ocasio-Cortez said in an interview with The Washington Times last week.
"I believe it's a Walgreens in California cited it, but the data didn't back it up," she added.
The comments sparked pushback from retail leaders and Republican lawmakers, including from Walgreens.
"Organized retail crime is one of the top challenges facing" the company, Walgreens told The Washington Times, adding that the crime "has evolved beyond shoplifting and petty theft to the sale of stolen and counterfeit goods online."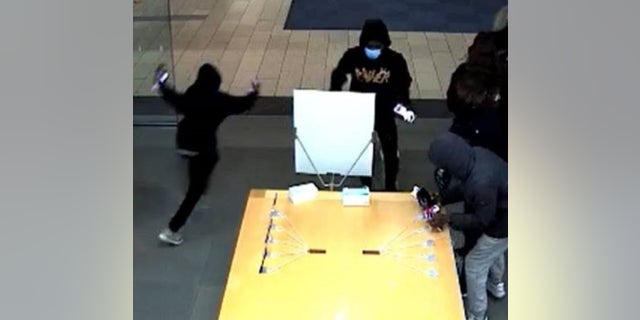 "I don't know what data she is talking about," said Rep. Rodney Davis, an Illinois Republican.
"But you don't really need much data from someplace in San Francisco or California. All you need to do is walk down the street to the CVS in Eastern Market," he said, referring to an area of Washington, D.C. near the Capitol. "I've seen on multiple occasions when I've been in there buying things, someone will come in and raid a shelf and walk out."
CALIFORNIA NORDSTROM ROBBED BY 80 LOOTERS IN SKI MASKS WITH CROWBARS AND WEAPONS: WITNESS
Indiana Republican Rep. Jim Banks said Ocasio-Cortez's comments were "tone-deaf and offensive" to the family of Oakland security guard Kevin Nishita. The former San Jose police officer was shot and killed in November while defending a news crew reporting on a smash-and-grab crime.
Posted by

jerry
at 10:05 AM
0 comments