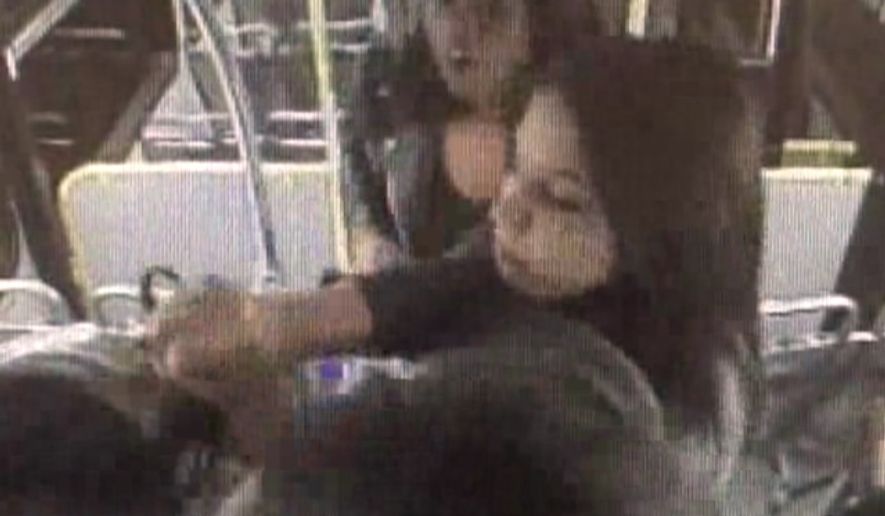 Three black female students who gained national attention after claiming to be victims of a hate crime attack are accused of making the entire story up and have been charged with assaulting a white bus passenger.
Ariel Agudio, Asha Burwell and Alexis Briggs, all 20 years old, have been charged with misdemeanor assault. Ms. Agudio and Ms. Burwell have also been charged with falsely reporting an incident, officials at the University of Albany announced Thursday, the Albany Times Union
reported
.The women grabbed national headlines — and a sympathetic
tweet
from Democratic presidential front-runner Hillary Clinton — after claiming that a group of 10 to 12 white men hurled racial slurs and attacked them on a CDTA bus about 1 a.m. Jan. 30 while others stood by and did nothing.
The alleged incident sparked a large on-campus rally defending women of color and the social media campaign #DefendBlackGirlsUAlbany.
Police now say there is no evidence to back up their story and that the women were the actual aggressors, according to footage
captured
by cameras on the bus and by witnesses. The actual victim, police said, was a 19-year-old white woman who was also a bus passenger, the Times Union reported.
"The evidence shows that, contrary to how the defendants originally portrayed things, these three individuals were not the victims of a crime," University Police Chief Frank Wiley said in a statement.
"The evidence indicates they were actually the aggressors in the physical altercation, and that they continued to assault the victim despite the efforts of several passengers to stop them," the statement said. "What happened on the bus was not a 'hate crime.' … The only person we heard uttering racial epithets was one of the defendants."
Ms. Agudio's Albany attorney, Mark Mishler, called the charges "unfortunate" and cautioned the public to avoid jumping to conclusions without having seen all of the evidence, the Times Union reported.
All three women are also facing campus disciplinary proceedings.
In a statement, University President Robert Jones asked for the community's "continued patience and respect as the judicial process continues."
"This matter is now in the hands of the criminal justice system," he said. "I look forward to the resolution of this case."