Please enjoy an article from
The Independent
titled "Snowfalls are now just a thing of the past." Written in the year 2000, global warmists are claiming that snowfall is history in Britain:
Britain's winter ends tomorrow with further indications of a striking environmental change: snow is starting to disappear from our lives.
Sledges, snowmen, snowballs and the excitement of waking to find that the stuff has settled outside are all a rapidly diminishing part of Britain's culture, as warmer winters – which scientists are attributing to global climate change – produce not only fewer white Christmases, but fewer white Januaries and Februaries…
[T]he warming is so far manifesting itself more in winters which are less cold than in much hotter summers. According to Dr David Viner, a senior research scientist at the climatic research unit (CRU) of the University of East Anglia,within a few years
winter
snowfall will become "a very rare and exciting event"…
Professor Jarich Oosten, an
anthropologist
at the University of Leiden in the Netherlands, says that even if we no longer see snow, it will remain culturally important.
"We don't really have wolves in Europe any more, but they are still an important part of our culture and everyone knows what they look like," he said.
From an article at the
BBC
in 2009:
Heavy snow has fallen across large parts of the UK, disrupting travel and closing thousands of schools.
South-east England has the worst snow it has seen for 18 years, causing all London buses to be pulled from service and the closure of Heathrow's runways.
The Met Office has issued an extreme weather warning for England, Wales and parts of eastern Scotland.
By late Monday, the South East could be under a foot (30cm) of snow and the North East under 20 inches (50cm).
Another article at
CBS News
posted today, Dec. 20th:
At least 350,000 people are stranded across Europe as snow and ice shut down airports, roads and rail systems during the holiday travel season. More winter weather in the forecast means many travelers will not be able to get on with their plans until at least Wednesday.
The weather has caused 60 percent of flights to be cancelled at the major airports in Paris, Frankfurt, Berlin, as well as London, where they were telling people to just stay away.
The following represents an assessment of the weather experienced across the UK during winter 2009/10 (December 2009 to February 2010) and how it compares with the 1971 to 2000 average (the period used for the seasonal forecast).
Mean temperatures over the UK were 2.0 °C below the 1971-2000 average during December, 2.4 °C below average during January and 1.6 °C below average during February. The UK mean temperature for the winter was 1.6 °C, which is 2.0 °C below average, making it the coldest winter since 1978/79 (1.2 °C). Over England and Wales it was also the coldest since 1978/79. Over Northern Ireland and Scotland, winter 2009/10 was comparable with 1978/79 and 1946/47, with only winter 1962/63 significantly colder in series from 1910. For northern Scotland, it was the coldest winter on record, with the highest number of frosts. A generally mild first 10 days in December was followed by a colder period. This cold spell persisted for the first half of January, with some severe frosts. After mid-month, temperatures rose to around normal before a return to colder conditions. These persisted for most of February, with only a few brief milder interludes mostly in the west and south.
Significant snowfalls occurred widely at times from mid-December until the end of February. These included falls of over 20 cm in southern England in early January and over 30 cm in central and northern Scotland in late February. During each month, rainfall totals over the UK were below the 1971-2000 average with 81% in December, 66% in January and 86% in February. Less than 50% of normal was recorded in each month in many western areas, especially western Scotland.
Oh how the heat over global warming has cooled as global warming predictions have failed. I wonder how many global warming scientists in England are stranded trying to travel for the holidays by snow. Yes, everyone knows what a wolf looks like, but for our present purposes I think it much more important to know what a fox looks like.
Video reports from across the UK by ITV News Correspondents Rupert Evelyn, Peter Smith and Damon Green.
Blizzards and heavy snow are wreaking disruption across the UK, causing several deaths and leaving hundreds of motorists stranded.
A red weather warning - the second in 24 hours - is in force for south-west England and south Wales as Storm Emma blasts the country, meaning the conditions pose a risk to life.
The Met Office has warned of widespread heavy snow and very strong easterly winds in affected areas, which will bring "blizzard conditions" and "severe drifting".
Up to 50cm of snow could fall over parts of Dartmoor, Exmoor and south east Wales.
A red "danger to life" weather warning was issued on Thursday night, the second within 24 hours.
The weather has left hundreds of motorists stranded in their vehicles and "major incidents" declared.
Britons across the UK have been urged not to travel unless "absolutely necessary" as the Beast from the East meets Storm Emma rolling in from the west.
The military has been called in to help with what has now been declared a major incident on the A31 in Hampshire.
Two lorries collided on the road earlier on Thursday blocking the road and leaving hundreds of motorists stranded.
Hampshire Police said it had called for the military to help as it dealt with a "build-up of traffic" and stranded motorists on the A31.
Motorists stuck on the road have been tweeting asking for help or information as many fear after being stuck for hours they have little fuel left to keep their vehicles running.
The force said they were unable to move the vehicles off the carriageway for "at least the next few hours", but were working to evacuate the most vulnerable people from the scene.
Assistant Chief Constable Dave Powell said: "All emergency services are working as hard as they can to get to as many people as possible at the scene and give them immediate assistance.
"I know that many people have been stuck for several hours and we are working as fast as we can to get to them, but at this stage we are limited to moving people from the scene rather than moving vehicles."
Sorry, this content isn't available on your device.
Avon and Somerset Police declared a "major incident" and said they were dealing with up to 100 cars stranded in snow on the A303 at Ilminster and a further 20 on the A358 at Thornfalcon.
It urged those stranded to stay in their vehicles and call for assistance.
"This operation is being supported by a number of volunteers and voluntary agencies, including Avon and Somerset Search and Rescue," a police spokesman said.
"If you are stranded, please stay in your vehicle, call for assistance and wait for help to arrive. Don't abandon your vehicle as it can hamper the efforts of emergency services."
Dozens of volunteers have been battling through snow to take supplies to people stranded on the M62 motorway in Greater Manchester.
Drivers have been left trapped in their cars for several hours after heavy snowfall.
Eleanor Kelly, 19, said local residents in Milnrow, Rochdale, had been taking hot drinks, food and blankets to those stuck on the carriageway - including to a father with a baby and toddler in the car.
She said: "We've been trying to get to as many people as we can in about a mile radius from where we can get to the carriageway."
The local community centre, Butterworth Hall, was also opened to provide refuge for stranded motorists overnight.
Police say wind speeds over the Rakewood Viaduct in Greater Manchester have reached 90mph.
The North West Motorway Police tweeted: "J21-22 M62 the wind speeds over Rakewood are 90mph that is the reason vehicles cannot continue as it would be a risk to life."
Sorry, this content isn't available on your device.
In Devon, motorists were left stranded on the A38 from the early afternoon, and in the end rest centres were opened in Totnes, Okehampton and Chudleigh, with those stuck urged to walk to leave their cars and walk to them if they could.
In Northumbria police are warning motorists to avoid several major roads that have now become impassable.
Police tweeted that they are also trying to reach a National Holidays coach carrying elderly passengers that has been stuck for eight hours.
Sorry, this content isn't available on your device.
Passengers on a train reported being stuck after it lost power outside of New Milton, Hampshire, leaving them stranded for hours without heating.
Sorry, this content isn't available on your device.
On Thursday afternoon police said a seven-year-old girl was killed in a "weather related" incident in which a car hit a house in snowy conditions.
Devon and Cornwall Police were called to Bodrigan Road in Looe, Cornwall, at about 2.30pm on Thursday.
A force spokesman said the girl, believed to be a pedestrian, was declared dead at the scene.
It comes as a 75-year-old woman was found dead in a snow-covered street in Leeds on Thursday morning, while Hampshire Police said a 46-year-old man died after a collision involving a lorry and van on the A34 southbound near Tot Hill services.
Two male teenagers were taken to hospital at 2.10pm on Thursday after they became trapped under a fallen conifer tree in Blackley, Manchester.
Greater Manchester Fire and Rescue Service said firefighters used a chainsaw and cutting gear to release the pair who suffered serious but not life-threatening injuries.
A red weather warning in Scotland was downgraded to an amber warning, which is in place across large parts of the UK until 10am Friday morning.
The red snow warning issued for Wales and south-west England is just the third issued in seven years.
It means "widespread damage, travel and power disruption and risk to life is likely", with concerns some rural communities could be cut off for days.
Snowfall will grow heavier through Thursday afternoon and evening with 10-20cm likely to settle widely across red alert areas, Met Office chief meteorologist Paul Gundersen said.
He added that freezing rain may batter parts of south-west England and Wales on Thursday night, potentially creating large, hazardous icy stretches as rain droplets supercool and freeze instantly upon hitting the ground.
Hundreds of motorists in Glasgow stayed in their cars overnight after vehicles were stranded on the M80.
Around 1,000 vehicles were at a standstill, tailing back eight miles in both directions, Police Scotland said.
And police in Lincolnshire reported that remote villages were
"completely cut off"
by two feet of snow and that many roads had become impassable - meaning emergency services were unable to reach stuck drivers.
ITV News reporter Adam McClean shared a video on Twitter showing blizzard conditions in Lancashire as a motorist became stranded in the severe weather conditions.
Sorry, this content isn't available on your device.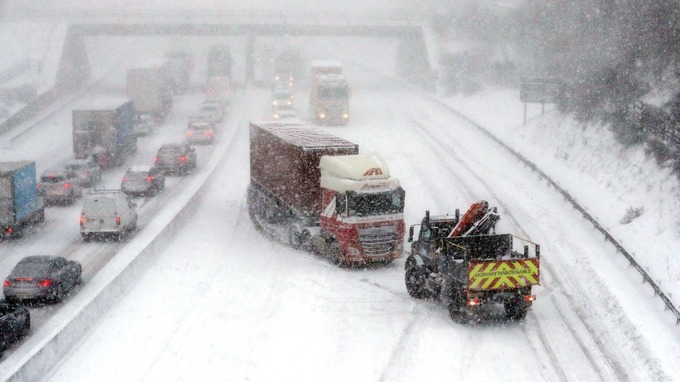 Meanwhile the National Grid has issued a "gas deficit warning" as fears mount that supplies could run empty due to high demand and supply losses.
Household supplies are not expected to be affected but shortages could hit industrial users as the Grid attempts to balance supply and demand into Friday.
It plans to do this by limiting industrial use and buying in more gas if necessary.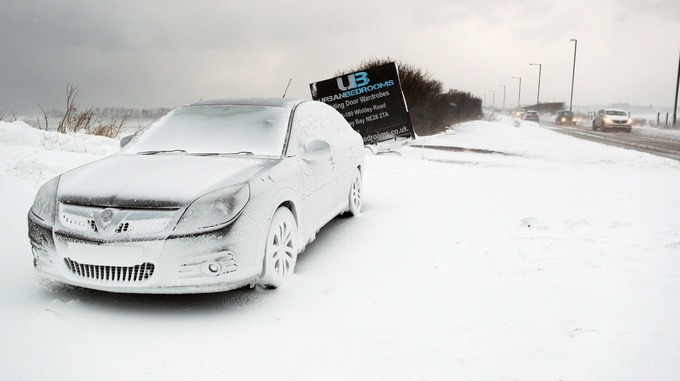 The extreme weather
grounded flights
to and from Glasgow and Edinburgh, with Glasgow Airport being forced to shut until at least 3pm.
Edinburgh Airport said that most airlines had cancelled all their operations until at least lunchtime.
Traffic became stationary on the M80 on Wednesday afternoon when heavy snow hit and at the height of the incident there were an estimated 1,000 vehicles at a standstill.
Motorists reported being stuck for up to 13 hours, with some spending the night in their cars and others abandoning their vehicles on the motorway.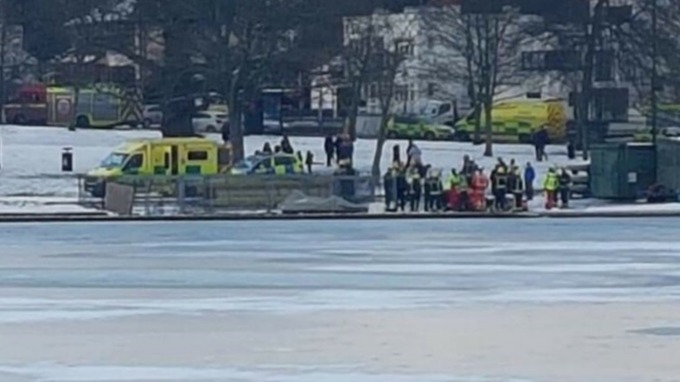 Police across England and Scotland have warned people against driving on Thursday, saying that it would be difficult to reach those who became stuck.
Authorities in Northumberland, Norfolk and Lincolnshire were among those to advise against anything but absolutely necessary travel.
Three people were killed in a crash with a lorry in Lincolnshire and another man died after a collision in Cambridgeshire.
Meanwhile on Wednesday, a man in his 60s, who died after he was pulled from a freezing lake in London, was named by the Met Police as Stephen Cavanagh.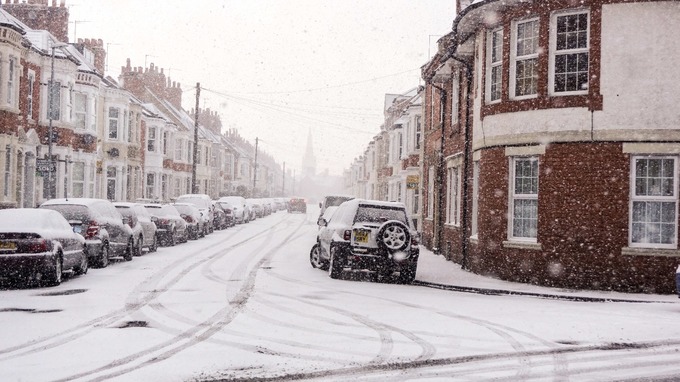 Meanwhile, the Irish Republic was put under red alert at 11pm on Wednesday as it was hit by the worst snow in 35 years, with the warning set to run until 3pm on Friday.
All schools and colleges in the country will be closed on Thursday and Friday owing to the weather.
Education Minister Richard Bruton wrote on Twitter: "Status red has now been issued for all counties with immediate effect.
"All schools, third level institutions and colleges of further education will be closed tomorrow and Friday."
Authorities also announced train services in Ireland would be suspended until Saturday.
The Met Office predicted highs of -1C (30F) for many places on Thursday, while on Wednesday, the highest temperature recorded in the country was a measly 1.7C (35F) recorded in Katesbridge, County Down, while the coldest was -5.3C (22.5F) in Braemar, Aberdeenshire.