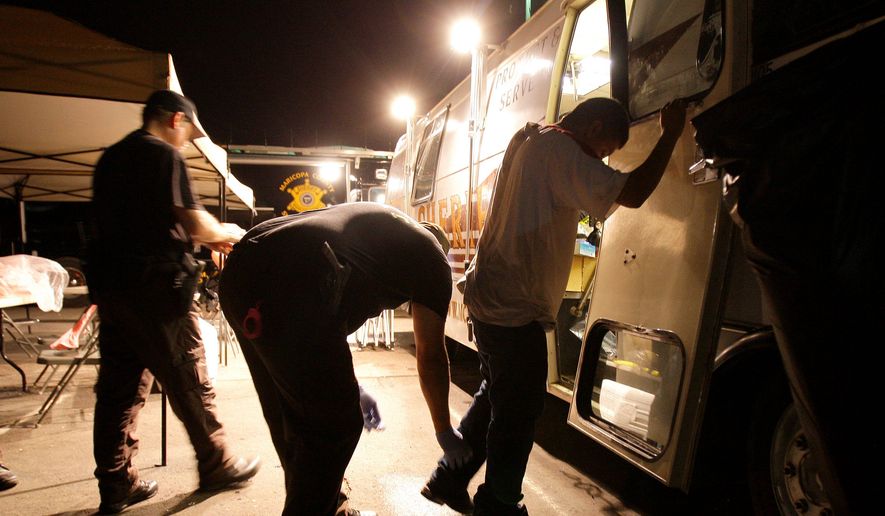 Nearly 3 percent of illegal immigrants in Arizona end up in state prison or jail during the course of a year — four times the rate of U.S. citizens and legal residents, according to a study that uses federal reimbursements for prisons and jails to try to calculate one of the most important yet elusive statistics in the immigration debate.
The method is not without controversy. One analyst dismissed the calculations, saying SCAAP data counts are not comparable to other incarceration counts.
Illegal immigration and its nexus to crime, long a controversial subject, has gained even more importance in recent weeks as President Trump has pushed for stiffer border security — including a border wall — that he says would "bring crime down in half in our country."
The group took a snapshot of the prison population in a state, using data from the Prison Policy Initiative, then subtracted the number of illegal immigrants the federal government paid to incarcerate in a year. That provided numbers for both an illegal immigrant prison population and everyone else.
For Arizona, analysts used 10,300 confirmed or suspected illegal immigrants for which the federal government reimbursed the state and counties in 2016. They subtracted that from an overall prison and jail population to get a non-illegal-immigrant population of 46,700.
That means one out of every 35 illegal immigrants in Arizona was in state prison or jail in 2016, which was the highest rate of any of the states they studied.
They did the same calculations for nine other states that have strong SCAAP reporting and account for about three-quarters of the estimated illegal immigrant population in the country.
In each of the 10 states, they found illegal immigrants incarcerated at higher rates. The gap was biggest in New Jersey, with an illegal immigration jail rate 440 percent higher, followed by Arizona, Oregon, Washington and California in the top five.
New York and Nevada came next, with rates at least 160 percent higher, followed by Florida, Texas and New Mexico, with the smallest gap — though even there, illegal immigrants were 42 percent more likely to be in prison or jail than the citizen and legal resident population.
Many studies rely on survey data, such as the census, to ask about criminal pasts. But Mr. Lott said that if people are reluctant to take part in the census because they fear answering citizenship questions, then they might refuse to take part or might shade their answers if they are illegal immigrants with criminal records. He said that would skew the results of crime rate studies based on census data.
Another type of study looks at all immigrants combined, without dividing out legal residents and illegal immigrants.
"The way that the government measures the number of SCAAP prisoners is different than the way they measure any other type of prisoners in the United States," he said. "I'd need to measure other prison populations in the same way the government measures SCAAP prisoners because the SCAAP is a combination of both the number of prisoners in prison and the number admitted over a period of time."
Mr. Nowrasteh conducted such a calculation for SCAAP numbers nationally, for data from 2006 to 2015. He found that as a percentage of their respective subpopulations, illegal immigrants are less likely to be incarcerated nationwide than native-born Americans and legal residents.'
In 2015, for example, he found the incarceration rate of illegal immigrants at 486.8 per 100,000, versus 673 per 100,000 for citizens and legal residents.
Other potential problems with the SCAAP data include the risk of double-counting because the numbers give only an aggregate of inmate stays. If someone is in a local jail and then a state prison for the same offense in the same year, then they could be double-counted.
Other studies have tried to get at the illegal immigration crime question other ways.
Among homicides in particular, of 785 convictions in Texas in 2015, 709 were native-born, legal immigrants were 30 and illegal immigrants were 46. That works out to rates of 3.1 per 100,000 for native-born, 1 per 100,000 legal immigrants and 2.6 per 100,000 illegal immigrants.