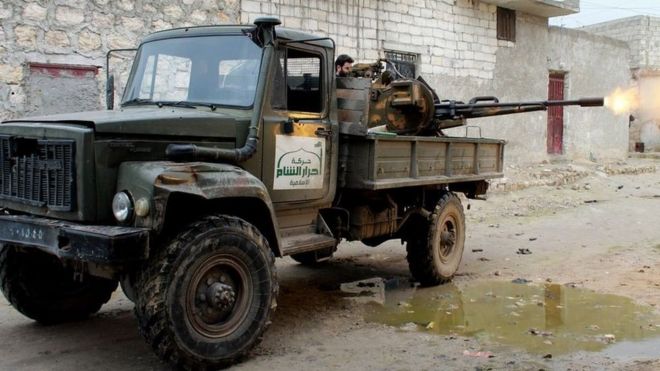 A powerful Syrian rebel group has pulled out of talks with opposition politicians aimed at forming a unified front ahead of possible peace talks.
Ahrar al-Sham cited the "main role" that Syria-based opposition figures had been given in a proposed leadership group.
It also said "revolutionary groups" were inadequately represented.
US Secretary of State John Kerry had earlier said the talks in Riyadh were "making progress".
World powers want negotiations between a unified opposition delegation and President Bashar al-Assad's government on a political solution to the four-and-a-half-year conflict to start by 1 January.
'Negotiating team'
The two-day conference in the Saudi capital brought together representatives of the National Coalition - the main Western-backed political opposition alliance - and the National Co-ordination Committee, which is tolerated by Mr Assad though its members in Syria have been harassed and detained.
Most of the main rebel factions, including Ahrar al-Sham, also sent delegations.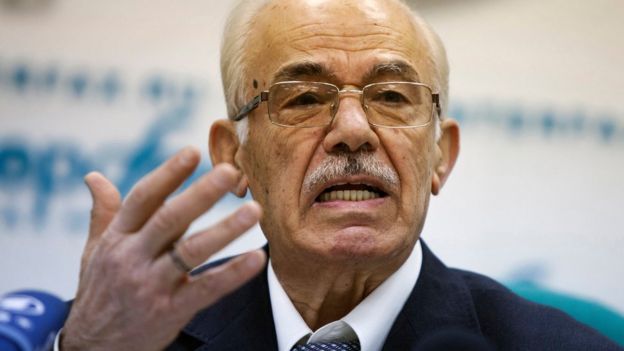 On Thursday morning, delegates were reported to have reaffirmed that the president and his associates could play no part in any transitional period.
There was also said to be broad agreement on keeping Syria united, establishing a democratic state, and on forcing foreign fighters to leave the country.
Monzer Akbik, a member of the National Coalition, told the Reuters news agency that delegates had decided to set up a 25-strong leadership group - six from the National Coalition, six from rebel factions, five from the National Co-ordination Committee, and eight independent figures.
A separate negotiating team with 15 members would also be appointed, he added.
"The meeting in Saudi Arabia appears to be very constructive at this point and we need to wait for the results of that conference," Mr Kerry told reporters on the sidelines of a global climate conference outside Paris.
"I think everybody is moving in the direction that they want to rapidly get to a political process and get it under way under UN auspices. So we made progress but we have some tough issues to get over."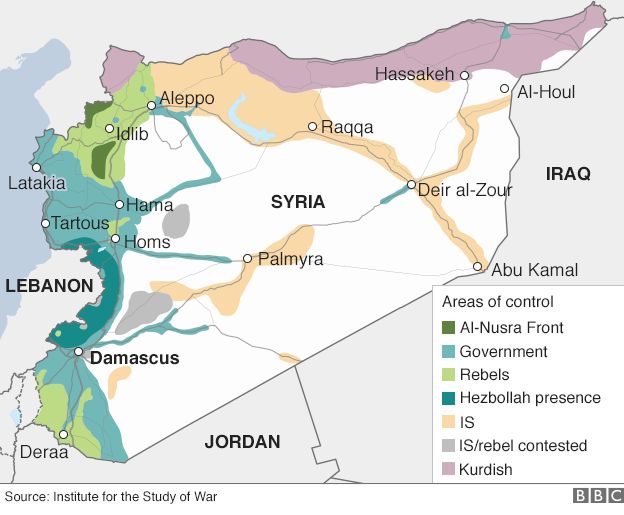 Mr Kerry said members of the new International Syrian Support Group - which includes the Arab League, the European Union, the United Nations, and 17 countries - were "working toward the potential of a meeting in New York" on 18 December, but cautioned that it was "not locked in yet".
But hours after he spoke, Ahrar al-Sham said it had withdrawn from the Riyadh conference because of the "main role" given to "personalities linked to the regime", an apparent reference to members of the National Co-ordination Committee.
It also criticised the failure to "confirm the Muslim identity of our people".
Ahrar al-Sham is a ultraconservative Islamist, or Salafist, rebel group that aims to topple Mr Assad and build an Islamic state, though it vows to achieve the latter through the ballot box and not force. It is part of Jaysh al-Fatah, an alliance that includes the al-Qaeda-affiliated al-Nusra Front.
In a separate development on Thursday, the jihadist group Islamic State (IS), which controls large parts of northern and eastern Syria, reportedly recaptured the Mahin and Hawarin areas of Homs province that it lost to government forces last month.