Al Sharpton's daughter admits she went to concert hours after 'spraining ankle' on Soho sidewalk in $5m lawsuit deposition - and has gone dancing in heels and even hiking since then
Dominique Sharpton, 30, claims she has 'permanent pain' from fall in 2014

She tripped on sidewalk in Soho, Manhattan, then demanded $5 million




Case got controversial when she put photos of her hiking on Instagram




She told a deposition in July that just hours after spraining her ankle, she was able to attend a gospel concert




Sharpton also managed to hike a mountain in Bali, go dancing in heels and jet set off to Miami to visit her

fiancé

on a dozen occasions




She told lawyers she is no longer able to run a marathon before admitting she had not been a runner before the fall



The Rev. Al Sharpton's daughter admitted she went to a concert just hours after she tripped and sprained her ankle on a Soho sidewalk - during a deposition for her $5 million lawsuit against New York City.
Dominique Sharpton, 30, had demanded millions in compensation from the city after claiming she sprained her ankle on uneven sidewalk in 2014, suffering 'permanent pain and mental anguish'.
But in a damning deposition, she admitted she has been able to go out dancing in heels, jet setting off to Miami a dozen times a year to visit her fiancé and even hiking a mountain in Bali last year.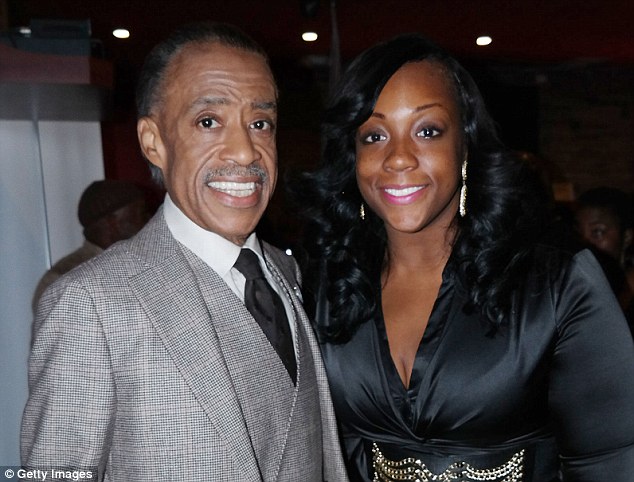 Dominique Sharpton (with her father) demanded millions in compensation from the city after claiming she sprained her ankle on uneven sidewalk in 2014, suffering 'permanent pain and mental anguish'
Sharpton, the daughter of renowned civil rights activist Rev. Al Sharpton, was even able to attend a two-hour gospel concert on the same day as her injury, the New York Post reports.
In a transcript of her July deposition, obtained by the New York Post, she described how she had been walking across the street when 'my foot went into something and caused me to fall.' 'I heard a snap,' she added of the incident at the corner of Broome Street and Broadway on October 2, 2014.
But rather than go straight to the emergency room, the 30-year-old went and got changed into her party clothes and some 'black, flat shoes' ready for her father's 60th birthday concert.
Only then did she go to the emergency room.
Sharpton claimed 'permanent physical pain and mental anguish' from her injury after tripping on a sidewalk. But pictures of her climbing at Red Rock Canyon in Nevada - after the sprain - were spotted on her social media
Dominique Sharpton, 30, posted pictures of herself and a friend climbing at Red Rock Canyon, and admitted during her deposition that she had been able to go hiking since her injury
When quizzed by a city lawyer if she had been able to attend the two-hour concert that night, Sharpton admitted that she had.
She did complain that she was no longer able to go skiing or run marathons since the injury.
But when asked if she had been a runner before, she conceded: 'Not necessarily. But if I, you know, if I needed to do it and exercising or something like that, I was capable of it. Now, I can't.'
Sharpton, the Rev.'s oldest daughter, sought treatment for her sprained ankle; receiving an injection for the swelling, undergoing physio, wearing a therapeutic boot and using crutches for a few weeks following the injury.
She later had surgery for ligament tears.
But the deposition heard it had not stopped her from traveling both nationally and internationally, going hiking, working out, touring in a play and dancing wearing high heels.
Ms Sharpton's suit over a sprained ankle was hurt when she posted photos of herself climbing a mountain in Bali last year (pictured)
Ms Sharpton posted pictures of her sunning herself at an Indonesia resort (left) and wearing high heels (right)
Sharpton told the deposition she could wear heels but only for a short time.
'It's really annoying,' she said.
Sharpton's case first became embroiled in controversy when lawyers saw she had posted photos of a mountain hike in Bali on her Instagram account last year.
And it emerged that before she had even filed the large suit on May 7, 2015, she had shared pictures of herself hiking in Red Rock Canyon outside Las Vegas with a friend despite the 'permanent' ­injuries she suffered before the suit.
In response to the Manhattan Supreme Court suit, city Law Department lawyer Michele Fox sent Ms Sharpton a letter on May 20 warning her to preserve all the photos, the New York Post reported.
Fox wrote: 'The purpose of this letter is to demand that plaintiff preserve any photographs, documents, communications and any other information, both tangible and electronically stored, potentially relevant to her alleged trip and fall.
'This demand should be construed broadly to encompass materials related to plaintiff's health, mobility, activity or physical limitations after the alleged incident.'
The $5 million Manhattan Supreme Court lawsuit was filed after the fall which occurred in Soho (pictured)
Her lawsuit is now worth just $5,000 to $7,500 because she demonstrated in her Instagram pictures that the injury is no longer impairing her quality of life, legal experts told the newspaper.
Sharpton, the membership director for her dad's organization the National Action Network, posted a picture on sunning herself by a pool in the Gili Islands, writing '#Balidays on the Gilis!!!' and sparked outrage after she posted a selfie from a mountaintop while on vacation.
CASES AGAINST CITY OF NEW YORK
It's quite common for people to sue over broken sidewalks and rough sidewalk.
One plaintiff, Denise Giles, got a $2.25 million settlement seven years after suing the city's Health and Hospitals Corporation for failing to fix a broken sidewalk outside one of its clinics. Giles claimed she needed ankle surgery as a result of her fall.
Her payout was one of 885, or $60 million worth, that the city made over a 22-month period for defective sidewalks.
'We hiked UP the mountain, over the clouds… into the SUNRISE,' she wrote on the photo.
'One of the most beautiful sites ever. And YES I ALMOST DIED GETTING UP THERE LOL. #Balidays we made it, WHEW.'
Fox also told Ms Sharpton to keep all her 'cameras (digital and non-digital) e-mails, text messages, cellular phones, tablets and any other device'.
'Live your life off social media if you have a case,' personal injury lawyer David Jaroslawicz told the Post.
'If she's going to claim she's disabled, the first thing you tell your client is, 'Don't live on social media,' because even if you don't lie, it makes you look bad.'
Sharpton's lawyer told the Post: 'She did sustain multiple ligament and tendon tears in her ankle,' adding that that despite her athletic feat this weekend, she 'has not returned to her pre-accident form.'
Ms Sharpton wants damages for the 'loss of quality of life, future pain and suffering, future medical bills, [and] future diminution of income,' according to court papers.
She was seen in a walking boot in the weeks following the fall.
However, by December, she attended National Action Network's Justice for All march in Washington, DC, and was able to walk freely during a New Year's Eve vacation to Miami Beach.
She also missed four deposition dates earlier this year before she was finally deposed in July.