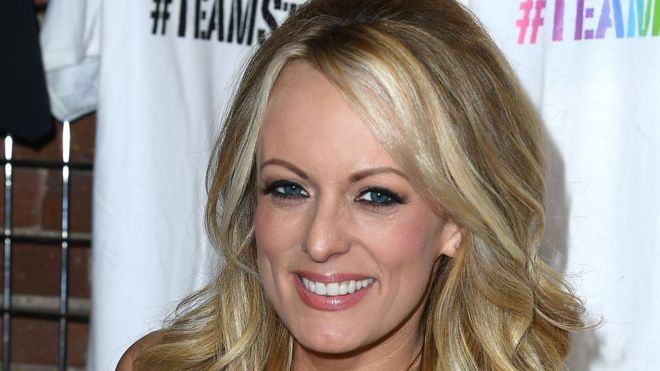 Adult film star Stormy Daniels failed to make two anticipated appearances on British TV in the space of 24 hours.
She was then due to appear on Friday's Loose Women. Host Jane Moore spoke to her off camera and said both absences were due to a "custody development".
Ms Daniels hit the headlines after alleging she had slept with President Donald Trump in 2006, which he denies.
She claims she was paid $130,000 (£96,000) by Mr Trump's lawyer, Michael Cohen in a "hush agreement" before the 2016 election.

Moore told viewers: "There was a custody development with her daughter late last night. She suddenly thought, I can't commit because being a mother comes first."
Daniels' daughter is seven, and going into the Celebrity Big Brother could have isolated Daniels from the outside world for several weeks.
Moore continued: "She wanted to go on the [Celebrity Big Brother] live show and explain [what had happened] and that was all agreed, she says, and then suddenly they said, 'We don't want you to do any of it.
"It has now become a legal situation and she says she has been told she can't come and talk. She says she is furious and wants to be sat here."