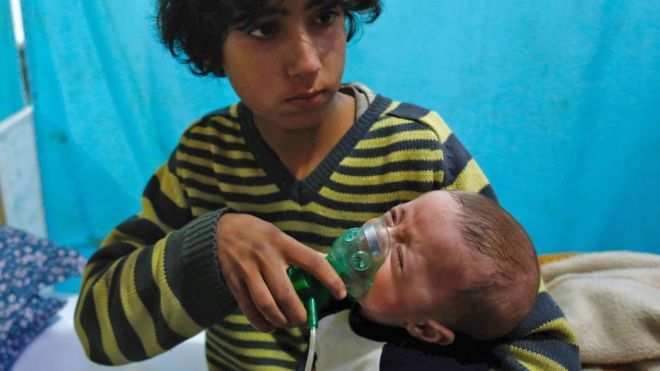 Three Belgian companies are to be prosecuted for exporting chemicals that could be used in the production of the deadly nerve agent Sarin to Syria.
The companies exported 96 tonnes of isopropanol to Syria between 2014 and 2016, the court summons says.
The firms say they were unaware that 2013 sanctions made export licences compulsory and allege that customs officials knew about the exports.
Isopropanol can be used in legitimate products such as paint remover.
But it is also a precursor in the production of Sarin, which the UN and Western nations accuse Syrian President Bashar al-Assad of using against his own population.
Finance ministry Florence Angelici told AFP news agency that the firms had been charged with making false customs declarations, and that the case would go to court from 15 May.
The firms, however, say they were unaware of the new licence requirements and acted in good faith when continuing to trade with paint and varnish companies with whom they had done business for more than 10 years.
"Every single kilo, every container is checked and controlled by the customs," Herman Van Landeghem from Danmar Logistics told the BBC.
"We gave them all the documents. They checked every container and released every container.
"Why did they release the containers? We opened them in front of the nose of the customs officers. They know where we sell them, they checked them for years and years and we have exported them to the Middle East for years. We supplied all the necessary documents.
"Everything we export to Syria is to clients that are not on the blacklist. None of them."
Both incidents prompted Western retaliatory air strikes.