They should be carrying their message to their crime ridden neighborhoods. i seriously doubt the people attending or marching in the gay pride celebration were much of a threat to "black lives."
The story said there was gunfire. Who was firing guns? Gangs? Made up of who?
The shirt worn by the lady lower right tells you exactly where the left is next headed. "Blacks out of jail." Since this administration with the help of SCOTUS have destroyed the rule of law and so now moral relativism and tribalism will rule.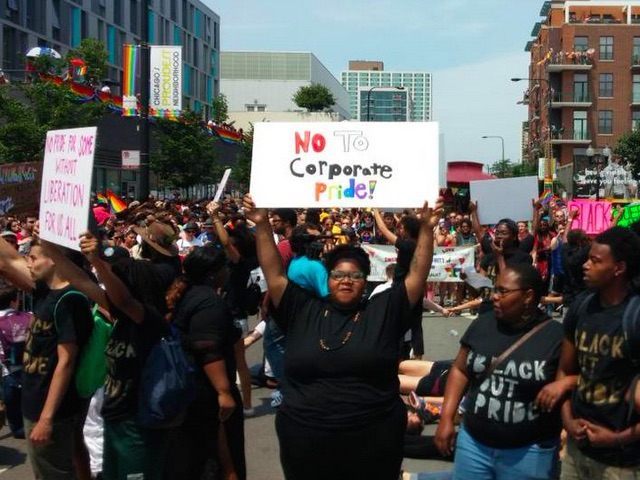 Chicago's 47th annual gay pride parade was disrupted several times by the usual city disruptions — gang activity, gunshots, and drunks — but the event was also disrupted by a car driving into a group of bystanders. Then there was an even larger interruption by "black lives matter" protesters.
Just about every Chicago parade these days features gunfire in the perimeters as gangs clash with police and drunks have probably been a parade disruption since forever. But this year a man tried to
drive into the parade route
, ramming his car into some bystanders — but not hurting anyone seriously.
Police swarmed the vehicle, smashed in the rear window and yanked out the driver, a middle-aged white man, and arrested him. Chicago police have released no details on the man's identity nor his motivations for ramming the barricades for the parade.
But by far the biggest disruption was from a large group of "black lives matter" protesters. The group was joined by members of the black queer community of Chicago who
announced the disruption
on their website.
After noting that they had "purposefully disrupted the Chicago Pride Parade," the queer group explained their reasoning.
"We do so," the group said, "because our people are dying at the hands of police, military and state-funded militias around the globe. We do so because we refuse to be tokenized by the same corporations that sponsor state violence, refuse a living wage and profit off our poverty. We do so because young queer people need a better outlet to celebrate themselves than a mire of consumption and sexual violence."
The queer group was also attacked by the "black lives matter" protesters who held signs and walked as a group to push their own message.
Follow Warner Todd Huston on Twitter: @warnerthuston. Email the author at igcolonel@hotmail.com.