The tap in her apartment yields water only every two weeks. It comes out yellow. Her 8-month-old granddaughter is ill. And as Yajaira Espinoza, a 55-year-old hairdresser, made her way down the halls of Caracas university hospital on Friday, Zika cases evident in the rooms around her, a dense ash-filled smog enveloped the city.
"I am so sorry for my daughter, because I know she suffers silently," she said. "This situation is hard."
It has been an exceptionally
painful
year for Venezuelans, suffering from violent crime, chronic shortages, plummeting oil prices on which they depend, declining health and fractured government. Yet this past week it seemed to reach a new low. A kind of resigned misery spread across a city that had once been the envy of Latin America.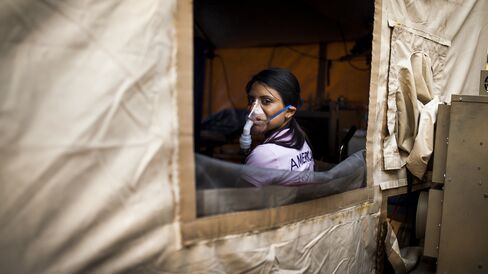 A sudden combination of natural disasters joined man-made failures. The smog, called calima, is a meteorological phenomenon that involves ash and dust clouds fairly common for this time of year. Meanwhile a prolonged drought blamed on El Nino and related forest fires has arrived. Levels at the Guri dam in the south, which produces 40 percent of the country's electricity, are reaching record lows.
Water Trucks Robbed
The lack of public order means attempts to alleviate the problems are going poorly. Water trucks dispatched to help reduce suffering from the drought, for example, are being routinely robbed.
"Two or three times a week a water truck we send out is robbed," said Tatiana Noguera, a water official. "The trucks get stopped by gangs who make the driver change the route and discharge the water in an area they control."
More than 3,700 cases of respiratory illness related to calima have been reported at state health centers around Caracas since March, said Dr. Miguel Viscuna, an epidemiologist. Medicine -- like toilet paper, chicken and other basic goods -- is increasingly hard to find.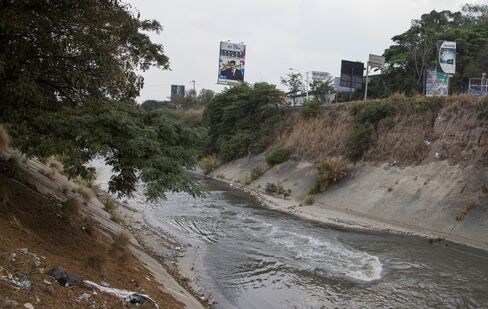 "The water is coming out very yellow, very bad quality," said Ana Carvajal, an infectious disease specialist at the Universitario Hospital in Caracas. "We're seeing an uptick in different illnesses, especially diarrhea. The lack of clean water is causing skin problems like scabies and folliculitis. There's no medicine. All we can do is prescribe sulfur soap."
Stomach Illnesses
Kiomara Scovino, the president of a community council in eastern Caracas, said she's seen stomach illness from the water and respiratory problems from the calima.
Luis Felipe Pedroso, a 59-year-old taxi driver, said he's having trouble sleeping because of a soar throat, eye irritation and congestion from the calima clouds. His neighborhood gets water three days a week.
"On the days when it comes, it's only for a few hours and its very dirty," he said. "This is unbelievable. The government hasn't taken any measures to solve these problems."
Earlier this month, President Nicolas Maduro announced a 60-day plan to conserve electricity, declaring every Friday in April and May a holiday for public workers. On Thursday, he said this weekend would last 5 days for public workers and that he'd change the country's
time zone
and further curtail power use by shopping malls.
30 Venezuelan Minutes
The time zone issue has been a peculiarity of Venezuela since 2007 when Maduro's predecessor, Hugo Chavez, pushed clocks back half an hour with the idea of allowing children to walk to school in daylight. One result, however, has been darkness when people leave work, adding to daily power usage and crime.
"This plan for 60 days, for two months, will allow the country to get through the most difficult period with the most risk," Maduro said.
In 2015, Venezuela's economy -- largely dependent on the sale of oil -- contracted by 5.7 percent and is expected to shrink by an additional 8 percent this year, according to the International Monetary Fund. The currency has lost 98 percent of its value on the black market since Maduro took office in 2013. Inflation is projected to rise to nearly 500 percent.
All of this has made Maduro not a very popular leader. His opponents won an overwhelming victory in legislative elections in December. But nearly every
attempt
by the new legislature to take the country in a new direction has been blocked by Maduro and a Supreme Court he appointed right after the elections.
"We voted and we won," said Mendoza, the hairdresser, as she choked back tears. "But now we see that all has been for nothing."