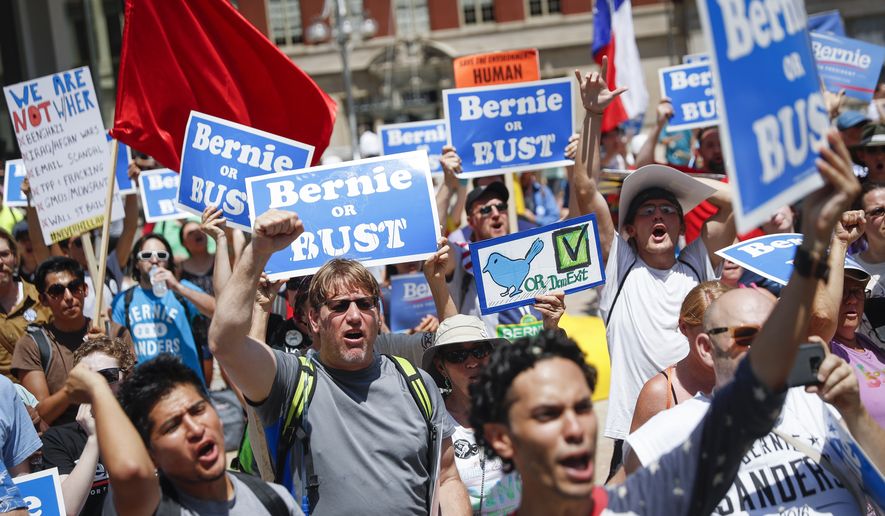 By Ben Wolfgang
- The Washington Times - Wednesday, October 12, 2016
Newly released emails show former Democratic Party officials offering
Hillary Clinton
's presidential campaign detailed advice on how to trick "self-righteous" supporters of
Sen. Bernard Sanders
into thinking they won concessions from the party establishment.
In the email released Wednesday by WikiLeaks, former party official Mark Alan Siegel is seen offering a proposal to reduce the role of Democratic superdelegates in future elections. While the proposal was sold to voters as an attempt to make the presidential nominating process more of a grass-roots endeavor, the email raises serious questions about whether the entire effort was just a ploy to satisfy disgruntled
Sanders
backers.
"I've lived through many national conventions and have found that it's critical that all delegates, especially those representing losing candidates, emerge from the convention feeling that they have won something, achieved something tangible," Mr. Siegel wrote in the March 20 message to former
Clinton
chief of staff Tamera Luzzatto. "I think this is terribly important especially with people like Bernie's sometimes self-righteous ideologues. We want them to go home happy and enthusiastic in working their asses off for
Hillary
."
The message was then forwarded to John Podesta, the Clinton campaign chairman whose private emails have poured into public view over the past five days. It does not appear that Mr. Podesta responded.
Mr. Siegel went on to explain that by reducing the role of superdelegates in the future,
Sanders
supporters could claim a victory that would have no impact on the Clinton campaign's victory in this cycle.
"Here's my idea. Bernie and his people have been bitching about super delegates and the huge percentage that have come out for
Hillary
… Why not throw Bernie a bone and reduce the super delegates in the future" to only elected Democrats, he wrote. "So if we 'give' Bernie this in the Convention's rules committee, his people will think they've 'won' something from the Party Establishment. And it functionally doesn't make any difference anyway. They win. We don't lose. Everyone is happy."
---
There were 716 voting superdelegates in the Democratic primary. They overwhelmingly supported
Mrs. Clinton
, drawing charges from
Mr. Sanders
and his backers that the entire process was unfair.
New party rules will allow elected lawmakers and governors to support whichever candidate they choose, but the remaining two-thirds of unelected Democratic superdelegates will be bound by the primary or caucus results in their respective states.