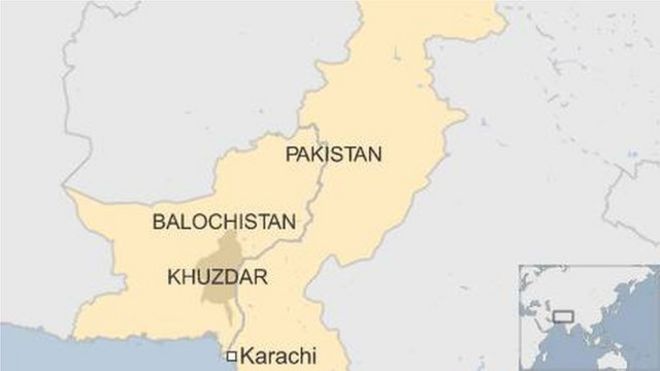 At least 30 people have been killed and more than 70 wounded, including women and children, in an explosion at a Sufi Muslim shrine in Balochistan, according to Pakistani media.
Emergency services are struggling to reach the site in remote Kuzdar.
Worshippers at the Shah Noorani shrine were performing dhamal - a trance-like dance - when the bomb hit.
Sufism, a tolerant, mystical practice of Islam, has millions of followers in Pakistan but is opposed by extremists.
A BBC correspondent says Sufi devotees have flocked to this popular shrine from all over the country, and from neighbouring Iran.
Those critically injured are being transported to hospitals in Karachi 100km (62miles) away, according to local officials.
Pakistani Prime Minister Nawaz Sharif condemned the attack and called for speedy rescue efforts.
Imran Khan, former cricketer and head of the Tehreek-e-Insaf party, condemned the attack that targeted the "core of our society".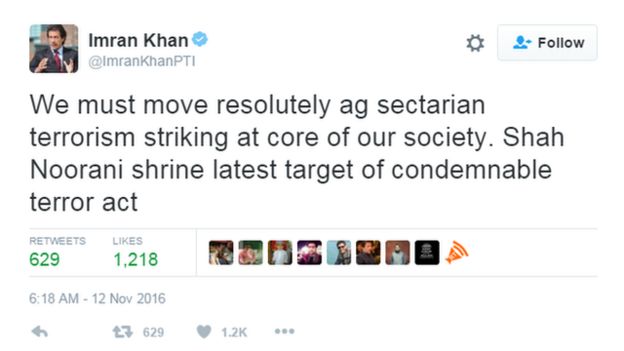 Extremist groups in the province of Balochistan have frequently targeted civilians this year.
In October, dozens were killed in an attack on a police college in the city of Quetta and in August an attack on a hospital there killed 70 people.
---