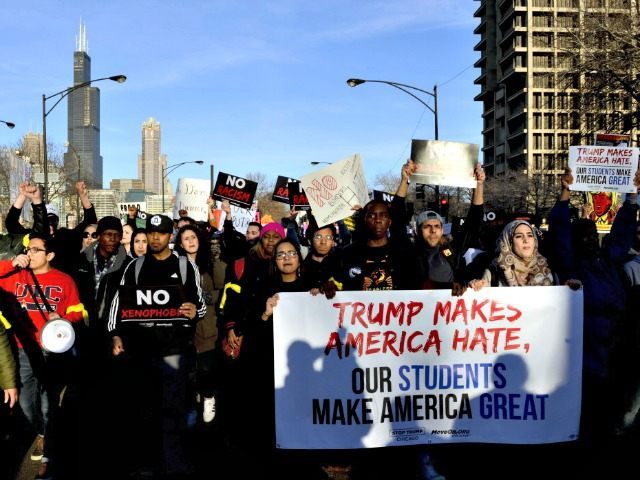 The protests launched by militant leftists who shut down Donald Trump's Chicago rally were far more aggressive and destructive than reported, says a Chicago Police officer.
The officer insisted there was "pretty much zero in terms of a unified Command Post" for the event, and that officers had no central command to report to or coordinate response from.
"Who wrote this plan?" the officer wrote. "We've seen and heard reports that UIC was woefully unprepared for this. They had their own people and Monterey Security inside. The Secret Service had a presence, but they're restricted to dignitary protection. The ISP had a squad there. And CPD. So where were the people geared up for a riot? For NATO we had an entire strike force geared up and ready to go. We had the Mounted Unit up and running. Tens of dozens of bikes. Did no one see this coming?"
The officer went on to insist that suddenly emptying the pavilion of Trump fans and "putting a few thousand people out on the street as targets" was a terrible decision. This decision led to many unnecessary confrontations between Trump fans and the anarchist protesters, the officer said. It also led to unnecessary property damage, the officer said.
Next came a long list of questions:
Who gave up the expressway? Who let them block ambulances? Why did they not assemble citywide Incident Teams as soon as they knew the rally was canceled? Tact Teams? We even heard Mass Arrest kits weren't available and only one transport wagon on scene in case arrests were made.
The criticism went farther.
Who ever drew up this order failed miserably. Whatever the Intelligence Section was doing wasn't nearly enough. The On Scene Incident Commander failed to anticipate even the best case scenario and every other appointee showed how incompetent they really were by not ordering up more reinforcements and more units on stand-by.
In all, it seems that at least this one Chicago Police Officer felt that the CPD fell down on the job during this incident.