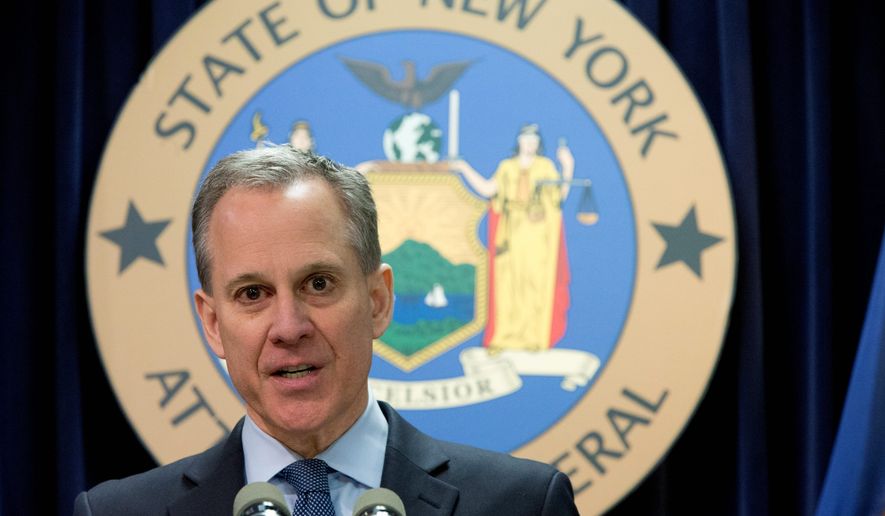 A coalition of Democratic attorneys general in 16 states announced Tuesday an unprecedented campaign to pursue companies that challenge the catastrophic climate change narrative, raising concerns over free speech and the use of state authority to punish political foes.
Standing beside former Vice President
Al Gore
,
New York
Attorney General
Eric Schneiderman
said the state officials are committed to "working together on key climate-related initiatives," including queries into whether fossil fuel companies like
ExxonMobil
have committed fraud by deceiving the public and shareholders about the impact of man-made carbon dioxide emissions.
Marc Morano, who heads the pro-industry website Climate Depot, warned that the state officials' legal campaign against the oil-and-gas industry would "have a chilling effect on free speech and scientific dissent."
"So he apparently has decided that anyone who disagrees with him on 'global warming' should face investigations, fines and penalties and be silenced," Mr. Morano said.
"I think the two big headlines coming out of this are that this entire issue continues to be based on a horrendously reported series of stories that rely on cherry-picked statements at every turn," said Katie Brown of Energy in Depth, a project of the Independent Petroleum Association of America, in a Tuesday statement.
Lew Wasserman, director of the Rockefeller Family Fund, told Reuters last week that "no specific company" was targeted by the grants, but that the fund supports "public interest journalism to better understand how the fossil fuel industry was dealing with the reality of climate science internally and publicly."
InsideClimate News and Columbia have maintained that donors have no influence over their reporting. The Los Angeles Times, which ran the Columbia report in October, later added a note listing the project's funders, including the Rockefeller Family Fund and Rockefeller Brothers Fund, as well as the pro-wind-and-solar Energy Foundation, according to Energy in Depth.
That comparison led Mr. Morano to suggest that the attorneys general may be seeking another payday, accusing them of targeting the oil-and-gas industry in pursuit of "huge financial settlements."