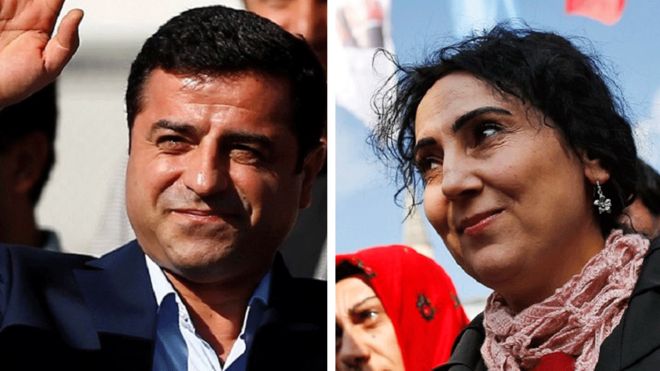 The two co-leaders of Turkey's pro-Kurdish HDP opposition party have been detained along with other MPs, officials say.
At least nine other HDP MPs were also taken into custody.
Meanwhile social networks could not be accessed from inside Turkey.
Twitter, Facebook, YouTube and Whatsapp were reported to be inaccessible shortly after the detentions, even when users tried to circumvent restrictions using a virtual private network (VPN).
Mr Demirtas had tweeted about his arrest before the sites were restricted.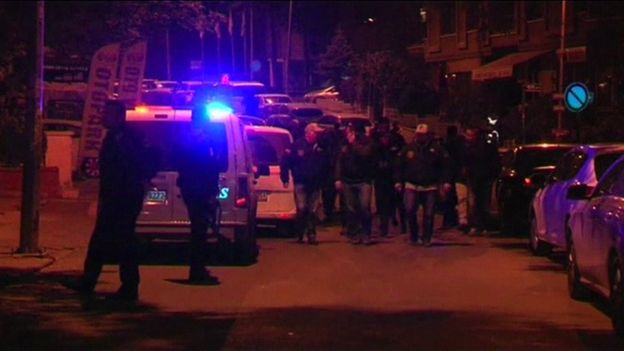 Another MP from the party who is currently abroad, Ertugrul Kurkcu, told the BBC that the detentions were "totally unlawful".
He said: "This crackdown tonight is nothing to do with procedural law, criminal law, any law whatsoever or the constitution. This is an unlawful hijacking of HDP parliamentarians.
"The Turkish government is heading towards a dictatorship of Nazi style [sic].
"Will the Turkish government abide by the internationally accepted standards of parliamentary democracy? This is the basic question."
State of emergency
Police searched the HDP's head offices in central Ankara as well as making the arrests.
The PKK is deemed a terrorist organisation by the US, the European Union and Turkey.
Turkey remains under a state of emergency that was imposed after a failed coup in July. The emergency allows President Recep Tayyip Erdogan and his cabinet to bypass parliament when drafting new laws and to restrict or suspend rights and freedoms.
It had done so after at least two people died in explosions at one of its rallies.
The next day, Mr Demirtas accused the ruling party of orchestrating nationalist attacks.
Turkish politicians normally have immunity from prosecution, but this was removed from the HDP earlier this year.