Caracas is running out of cash.
Venezuela only has $10.5 billion in foreign reserves left, according to its most recent central bank data.
For rest of the year, Venezuela owes roughly $7.2 billion in outstanding debt payments.
In 2011, Venezuela had roughly $30 billion in reserves. In 2015, it had $20 billion. The trend can't persist much longer, but it's hard to know exactly when Venezuela will run completely out of cash.
"The question is: Where is the floor?" says Siobhan Morden, head of Latin America fixed income strategy at Nomura Holdings. "If oil prices stagnate and foreign reserves reach zero, then the clock is going to start on a default."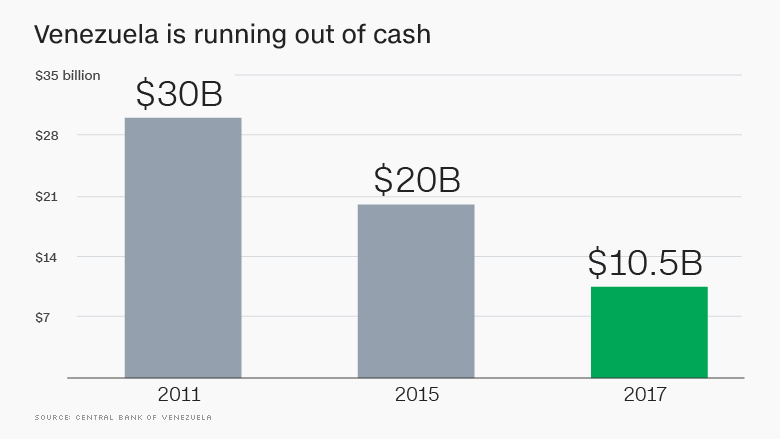 Another key problem is the relatively low price of oil, which stands at half of what it was in 2014. Venezuela has more oil reserves than any other nation in the world, and oil shipments make up over 90% of the country's total exports.
That's making it nearly impossible for the country to pay its debts and import food, medicine and other essentials for its citizens.
Venezuela's imports are down 50% from a year ago, according to Ecoanalitica, a research firm in Venezuela.