City is largest in U.S. company rates below investment grade

Chicago has already stopped hiring Moody's to grade deals
Chicago is stepping up its battle with Moody's Investors Service ahead of a $1.2 billion bond sale next week.
Mayor Rahm Emanuel, a Democrat who pushed through a record
tax increase
to shore up the city's finances, asked the company to pull its junk rating on Chicago's debt, saying it's exaggerating the risks to bondholders and failing to recognize steps he's taken. Chicago has already stopped hiring Moody's to rate new bond deals, relying instead on rivals S&P Global Ratings and Fitch Ratings that continue to consider its debt investment grade.
"It has become increasingly clear that Moody's rating methodology and agenda are far from objective and independent," Emanuel said in a Dec. 8 letter to Moody's Chief Executive Officer Raymond McDaniel that was released by the city. "Your current rating does not accurately reflect the city's credit or our ability to pay debt service when due."
Chicago became the only major U.S. city outside of Detroit with a junk rating in 2015, when Moody's downgraded it because of the escalating pension bills triggered by years of failing to set aside enough money to cover promised benefits.
With its rating
also downgraded
by S&P and Fitch, Chicago has had to pay higher interest rates to bond investors, adding to its financial strain. A Chicago general-obligation bond maturing in 2026, one of the city's most active securities, is showing a yield to worst of about 5.10 percent, nearly three percentage points more than benchmark debt, according to data compiled by Bloomberg.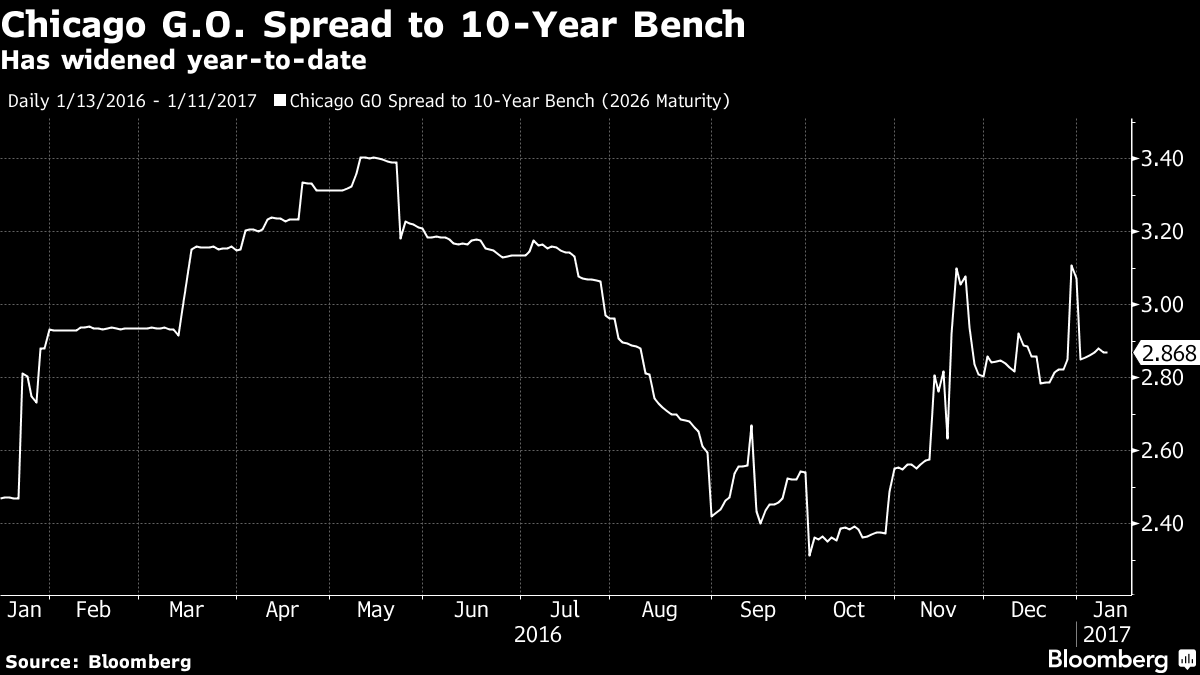 Moody's rates Chicago Ba1, one step below investment grade, with a negative outlook, indicating it could be downgraded. Fitch rates it BBB-, one step higher, while S&P's rating is the highest at BBB+, three levels above junk.
Moody's declined to comment on any potential changes to Chicago's rating.
"Moody's has a process for handling requests from issuers to withdraw their ratings and follows that process when such requests are made," Moody's spokesman David Jacobson said in an email. He added that the firm does not comment on "potential future ratings actions."
When Emanuel took office in 2011, the city's rating from Moody's was Aa3, the fourth-highest investment grade, the mayor said in the letter. Since then, he said he's taken steps to put Chicago's "fiscal house in order," only to see its standing plunge.
If Moody's doesn't pull the rating, the mayor asked the company to tell investors that its opinions will "solely be based on publicly available information." Moody's Jacobson said the company doesn't comment on its meetings and discussions with debt issuers.
"Really at this point we're open at having a professional relationship," said Chicago spokeswoman Molly Poppe. "It's going to be a two-way street based on what we feel like from our credit makes sense for us."