Sunday, October 17, 2021
October 12, 2021
To paraphrase Jeff Foxworthy, if you feel a shiver of excitement when "school shooting" trends on Twitter, you just might be woke. Last Wednesday, Erica -- a nurse and "humanist" -- proved her wokeness in spades.
"They're already making excuses for the shooter 'he got in a fight with someone,'" she tweeted. "Okay, but who chooses to shoot people? White males are a problem #TexasShooter #EnoughIsEnough."Although reluctant to admit as much, many on the Left welcome a school shooting. Perhaps more than any other event, a shooting reinforces their empty mishmash of a worldview. It allows them to flaunt their hatred both of guns and of their lily-white selves. For Erica, the Texas shooting was a twofer -- or at least it seemed to be.
Alas, the rush was short-lived. About 20 minutes after the original tweet, Erica tweeted back to her 405 followers, "Oh F***. He's a POC." For the record, Erica did not use asterisks, and "POC" is woke shorthand for "person of color."
Had Big Media been even just a little bit honest about race and crime, Erica would not have embarrassed herself as she did. A well-informed Erica, upon hearing of a school shooting, might have tweeted, "Oh F***. He's probably a POC." In the real world, Erica, he almost always is.

The POC in question was 18-year-old Timothy Simpkin, a black student at Timberview High School in Arlington, Texas. Systemic racism had apparently failed to keep this young man down. He wore fancy clothes and drove a $35,000 car. Others allegedly bullied Simpkin because of his good fortune.
Weary of the bullying -- or so the story goes -- Simpkin shot and critically wounded a 15-year-old student, race unknown, and a 25-year-old man. Also injured in the panic that followed the shooting were a teenage girl and a pregnant teacher. Incredibly, Simpkin was released on a $75,000 bond and was home partying while the 15-year-old remained in a coma.
Simpkin was not an outlier. Less than a week prior, also in Texas, Dexter Kelsey, a former student at YES Prep Southwest Secondary School in Houston, shot and injured the school's principal. Kelsey is black, the principal Hispanic. This case generated almost no media attention beyond Houston.These news stories should have surprised no one. Based on the available evidence, it would seem that all of the 14 school shootings to date this school year involve a person of color. This year, too, as in most years, every incident took place in or around a public school.
Given that these cases usually involve minors -- one shooter was age 7 -- the evidence that the police and media provide does not always include names or photos. In a few of these cases, I have had to deduce the race of the shooter from the milieu of the shooting and the identity of the victims, bystanders, and witnesses. In thirteen of the cases, as best as I can figure, the shooter was black. In the fourteenth case, a fatal one out of Albuquerque, the accused 13-year-old shooter was, in fact, Hispanic and the 13-year-old victim black.
The Albuquerque shooting on August 13 was the first this school year. On August 18, in Orangeburg South Carolina, a 14-year-old opened fire in the high school parking lot, wounding three. On August 27, in Woodbridge, Virginia, a teenager shot and wounded two students in his high school parking lot. On September 1, a student at a Winston-Salem High School shot and killed another student. And the list goes on.
Erica might take comfort knowing that none of these 14 shootings resulted in mass casualties as occurred most notoriously at Columbine and Sandy Hook. Although white students were responsible in both those cases, white males have no monopoly even on the mass shooting subset of the larger phenomenon.
In November 2019, for instance, an Asian-American student named Nate Berhow shot five of his Santa Clarita, California, classmates before shooting and killing himself. In 2007, unforgettably, a Korean student shot 49 others at Virginia Tech, killing 32 during the most lethal school shooting in American History.
For all the disinformation the major media spreads, on no other subject are they as consistently and perversely wrong. Indeed, to even suggest that white males dominate school shootings makes no more sense than to suggest white males dominate the NBA.
Counting on the ignorance of the public, academics take race and crime disinformation to another level still. Consider this excerpt from a 2020 articleby Joshua Gregory in the journal Children & Schools:
Even though nearly all school shootings are committed by white students, no etiological theory has contemplated the possibility that whiteness contributes in any meaningful way to the perpetration of school shootings…. The present article takes up the task of beginning to theorize the relationship between whiteness and school shootings, exploring the likelihood that whiteness acts as a moderator, leading whites, but not non-whites, to commit school shootings in response to similar antecedents.
To report that "nearly all school shootings are committed by white students" is Orwellian in its wrongness. Gregory, who is himself white, teaches in the Social Welfare program at UC-Berkeley. Not surprisingly, his work "focuses on whiteness and neo-abolitionism (the abolition of whiteness), critical theory and philosophy, histories of whiteness and social welfare, and the integration of critical theories with social work praxis modalities and research methodologies." Despite the Berkeley gig, this taxpayer-funded CRT propagandist is no more a scholar than Al Sharpton or AOC.
Denying reality has consequences. In their race-addled wisdom, officials of the Broward County, Florida, School District convinced themselves a few years back that the huge differential in arrests between white and black students had less to do with actual behavior than it did with institutional racism.
To minimize the arrest gap, the school district adopted a program that allowed school officials, not the police, to determine what acts deserved referral to the criminal justice system. To make the issue seem less stark, authorities cloaked the black/white crime disparity with EEOC boilerplate about "students of color." This semantic game-playing opened the door for a young man named Nikolas de Jesus Cruz to continue his violent ways unchecked.
In February 2018, that violence culminated in the deadliest high school shooting in American history. Cruz shot 34 of his fellow students, killing 17. This shooting happened specifically because the school district designated Cruz as a POC.
Parkland was on you and your friends, Erica. Think about it before the next time you tweet.
Jack Cashill's latest book, Barack Obama's Promised Land: Deplorables Need Not Apply, is now widely available. See www.cashill.com for more information.
Posted by

jerry
at 8:12 PM
0 comments

Saturday, October 16, 2021
OCTOBER 16, 2021
The Justice Department shot back a "terse" response Friday to President Joe Biden's suggestion that individuals who ignore subpoenas related to a congressional investigation into the Jan. 6 riots at the United States Capitol should be prosecuted.
What did Biden say?
While speaking to reporters at the White House, Biden said any individual who ignores subpoenas related to the Jan. 6 investigation should be held "accountable."
"I hope the committee goes after them and holds them accountable," Biden said.
When a reporter followed up, asking Biden whether he thinks such individuals should be "prosecuted by the Justice Department," the president answered in the affirmative.
"I do, yes," Biden said.
What was the response?
Justice Department spokesman Anthony Coley fired back a "terse" response late Friday.
"The Department of Justice will make its own independent decisions in all prosecutions based solely on the facts and the law. Period. Full stop," Coley said.
Posted by

jerry
at 9:49 AM
0 comments

Beth Barts, a prominent left-wing member of the Loudoun County School Board, abruptly announced Friday that she was stepping down from her position.
The development comes as the Loudoun County School Board faces intense criticism over its handling of two sexual assault cases. The school board has also generated national attention in recent months as parents fight back against COVID-19 policies, transgender issues, and controversial lessons about race.
What did Barts say?
Barts announced her resignation through her Facebook page Friday afternoon.
"This was not an easy decision or a decision made in haste. After much thought and careful consideration, it is the right decision for me and my family," Barts wrote.Barts added that she is "grateful to have had a role in empowering students" and is "especially proud to have participated in helping steer the Loudoun County School System through the uncharted waters of educating students throughout a global pandemic."
Barts said her resignation will be effective Nov. 2.
What is the background?
Barts was elected to the school board in November 2019, meaning she served almost half of the four-year term. Despite school board elections being nonpartisan, Barts had received support from the Loudoun County Democratic Committee.
Barts' tenure was controversial, and she had faced censure from other board members. The Washington Post explained:
The board voted first to reprimand, then to formally censure Barts — and finally to remove her from school committees — for violating school board rules during some of her interactions with county residents and through her posts on social media. Other board members called her behavior inflammatory.

In a school board document from early this year, chair Sheridan wrote that Barts "fail[ed] to put student interest first" and "to show respect for fellow board members."
As the Post further noted, Barts' resignation came "shortly before she was due to face a trial in the recall campaign against her."
Barts, in fact, found herself at the center of a recall effort that sought to remove several school board members over their membership in an online group that tracked parents who opposed the inclusion of critical race theory in school curriculum and parents who supported in-person learning.
Ian Prior, the executive director of Fight for Schools — the group leading the recall effort — praised Barts' resignation.
"This could not have been an easy decision for Ms. Barts. We have made known our displeasure with her actions as a school board member over the past several months, but today she has done the right thing," Prior said in a statement. "Her former colleagues should take notice."
"The community should know, however, that the problems at Loudoun County Public Schools and on the school board go well beyond one school board member. We will continue to shine a light on Loudoun County Public Schools and will keep fighting until we have a school board of common sense, non-partisan members and a superintendent who is accountable to parents and tells the truth," Prior added.
Posted by

jerry
at 9:44 AM
0 comments

Friday, October 15, 2021
Already under fire for allegedly concealing two sexual assaults from the public, Loudoun County Public Schools in Virginia is now accused of failing to report multiple known incidents of alleged sexual assault in schools despite a state law that requires such reporting.
Virginia law mandates that "Reports shall be made to the division superintendent and to the principal or his designee on all incidents involving … sexual assault."
But according to the Daily Wire, LCPS has in at least three instances failed to report statistics on sexual assaults to a public database administered by the Virginia Department of Education that was set up so that schools can comply with the law. NEWS
OCTOBER 15, 2021
Posted by

jerry
at 7:22 PM
0 comments

OCTOBER 14, 2021
Katie Couric confessed she's an enemy of the people.
In her soon-to-be-released memoir, the former "Today Show" host disclosed she edited an interview with Ruth Bader Ginsburg to "protect" the then-83-year-old Supreme Court Justice from public backlash. During a 2016 interview, Ginsburg made the mistake of sharing her true feelings about national anthem-kneeler Colin Kaepernick.
Ginsburg told Couric that Kaepernick and his allies were showing "contempt for a government that has made it possible for their parents and grandparents to live a decent life ... which they probably could not have lived in the places they came from."
Posted by

jerry
at 1:38 PM
0 comments

District Attorney Raúl Torrez is struggling to reverse a prolonged spike in murders in Albuquerque
A vehicle was stolen on Tuesday in broad daylight in Albuquerque outside a venue where a progressive prosecutor backed by left-wing financier George Soros was speaking about rising crime in the area.
Bernalillo County district attorney Raúl Torrez (D.) is struggling to reverse a prolonged spike in murders and non-fatal shootings in Albuquerque. Torrez is also a candidate for New Mexico attorney general, with a campaign keyed to a left-wing "smart on crime" approach that advocates harsher gun control measures with greater investment in diversionary programs and consumer protection.
Posted by

jerry
at 9:26 AM
0 comments

Many Jewish people are leaving Europe because they feel increasingly unsafe, Jewish representatives in Brussels say. And they're calling for deeds — not words — from the EU. DW's Bernd Riegert reports.
Rabbi Slomo Koves was preparing to speak about Jewish life at a high school in a small, industrial town in Hungary when suddenly the headmaster had concerns.
"The head of the school told me that he wanted me to be careful because most of the kids are first-time voters — and most of them will vote for the extreme-right Jobbik party," Koves said.
Koves, from Budapest, insisted that he would be OK and the first question he asked the students was: "What comes to mind when you hear the word 'Jew'?"
Their answer, he says, "was a curse word."
Koves was reflecting on the experience he had several years ago during an election year. He travels throughout Hungary and Europe helping to dismantle prejudices among the younger generation, in particular, and tell them about the life of the 100,000 or so Hungarian Jews today. He founded the Action and Protection Foundation (TEV), a Budapest-based organization that monitors antisemitism, provides a hotline, and educates communities about Jewish life and hate crimes.
Koves believes that his talks to school classes can make a difference, saying: "Most pupils have loads of questions because there are still so many prejudices."
The rabbi says he has perceived a gradual drop in antisemitism in Hungary over the years — but he still encounters students who despairingly ask whether they have to remain Jewish just because their parents are Jewish.
"My dream," says Koves, "is that we will not have in the future any European kids who will feel intimidated for being Jewish."

"No Jewish kid or teenager should be afraid to live by his or her Jewish identity ... and I have a dream that no teenager in Europe will ever think that the word Jew is a curse word."
Widespread antisemitism in Europe
But there may still be a long way to go before this dream can be realized. A new study published by the European Jewish Association (EJA), an alliance of Jewish communities and organizations, clearly shows that antisemitism is deep-rooted — and even increasing — in the European Union some 80 years after the Holocaust.
Rabbi Slomo Koves is presenting this report at the annual meeting of European Jewish leaders in Brussels. It is based on a survey of 16,000 people in 16 EU member states conducted by the market research agency IPSOS.
The survey also contains a glimmer of hope despite all the negative tendencies, according to Koves. He says that the work of the Action and Protection Foundation shows that a turning around of trends is possible in Hungary: From 2006 to 2013, the growth of far-right and right-wing populist parties in Hungary also led to a deterioration in the climate for Jews, according to the rabbi.
But in 2012, the foundation started to improve outreach work to raise awareness about the issue and fight prejudice, he says. The new study shows that Jews in Hungary now feel less threatened than they did seven years ago.
In Hungary, the problem was clearly identified, and educational and outreach programs were developed and implemented together with state organizations. "Other EU states should follow this good example," adds the Hungarian rabbi.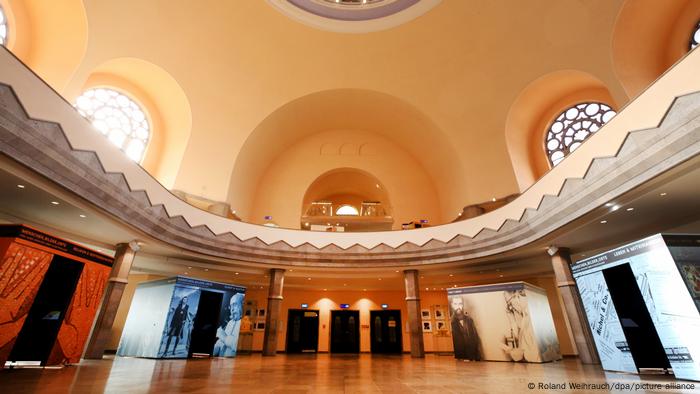 Germany is celebrating 1,700 years of Jewish life, but the country has the most recorded antisemitic attacks in the EU
Regional differences
There are still plenty of antisemitic prejudices in Europe, according to the new study. They include global cabal conspiracy theories, blaming Jews for Christ's crucifixion, and allegations about "dubious business practices."
Researchers from the University of Budapest compiled a survey made up of 70 questions to uncover prevailing attitudes of non-Jews towards Jews in European countries.
Antisemitic sentiment was strongest in Greece, Poland, Slovakia and Romania. The least prejudice was surveyed in Sweden, the Netherlands and the UK.
Germany ranked somewhere in the middle for most of the questions. However, it was the country with the greatest number of violent antisemitic attacks in the EU in 2020 — with 59 recorded cases.
The authors of the new study say that the majority of people in Greece, Poland and Austria harbor either strong or latently antisemitic attitudes. The figure is 28% in Germany, while in Sweden and the Netherlands there is only 10% and 8% respectively.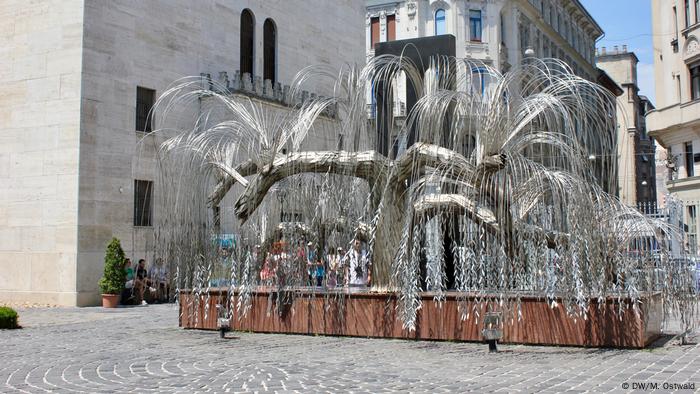 Holocaust Memorials, like this one in Budapest, are not enough to curb antisemitism
EU needs to take action
The European Commission only presented its first political-strategic program to fight antisemitism last week. It plans to outlaw the trade in Nazi memorabilia and boost the fight against antisemitic hate speech on the internet.
Nine out of 10 Jews in Europe see antisemitism as a serious problem, according to European Commission data.
At the European Jewish Association meeting, Jewish leaders said the European Commission's strategy should only be the first step. At present, not even all EU member states record antisemitic attacks, never mind taking concrete measures to address the problem.
Wave of emigration feared
France is the country with the most Jewish citizens after Israel and the United States. Joel Mergui, who is head of the Jewish Central Consistory in France and represents all Jewish communities in the country, regretfully noted to reporters in Brussels: "The Jews are leaving Europe."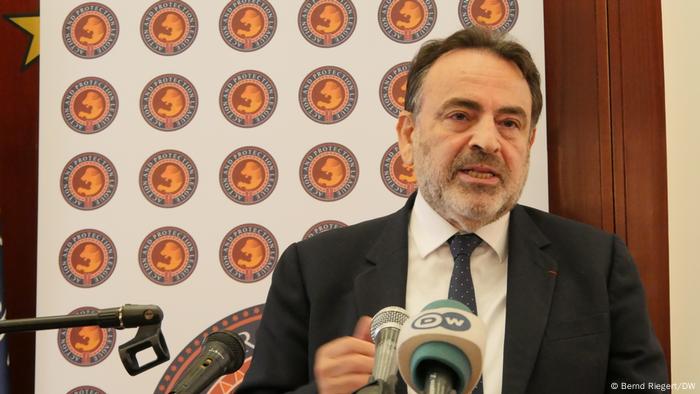 Joel Mergui is worried about the number of Jews leaving Europe
He said young people, in particular, were emigrating to Israel or the US because they no longer felt safe any longer in Europe.
In France, he added, there were zones in big cities that were no-go areas for Jews. "And even the police were hardly setting foot in these abandoned zones," said Mergui.
The French functionary urged Europe to not accept antisemitism, but to fight against it — not with resolutions, but with deeds.
Mergui said Jewish people must be able to live their lives without requiring continuous protection by the police at synagogues, schools and kindergartens.
"Unfortunately, we have grown accustomed to this, but it is not normal."
This article was originally written in German.
Posted by

jerry
at 9:00 AM
0 comments