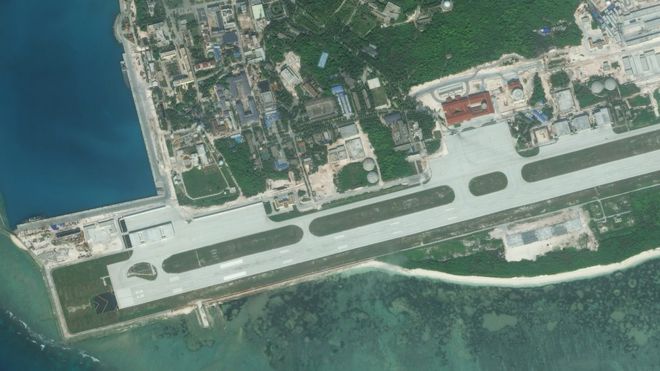 Australia has formally rejected China's territorial and maritime claims in the South China Sea, aligning itself more closely with the US as tensions rise.
In a declaration to the United Nations, Australia said the claims, which take in the majority of the sea, had "no legal basis". China has not reacted.
It comes after the US called some of China's actions in the area "unlawful".
In recent years China has built bases on artificial islands in the sea, saying its rights go back centuries.
Brunei, Malaysia, the Philippines, Taiwan and Vietnam contest China's claims. The countries have wrangled over territory for decades but tensions have steadily increased in recent years, with several maritime confrontations taking place.
Beijing claims a vast area known as the "nine-dash line" and has backed its claims with island-building and patrols. It has built significant military infrastructure, although it insists its intentions are peaceful.
Although largely uninhabited, two island chains in the area - the Paracels and the Spratlys - may have reserves of natural resources around them. The sea is also a key shipping route and has major fishing grounds.