Target marketing VP holds senior position at org pushing secretive transgender policies in K-12 schools
GLSEN calls for gender ideology to be integrated into all classes, even math
A Target Corporation senior executive in the marketing department maintains a position with a controversial K-12 advocacy organization called GLSEN – Target's Pride Month partner – which is focused on integrating gender ideology at all levels of K-12 schools, from curriculum to district policy.
Carlos Saavedra is a vice president of brand marketing at Target and a treasurer at GLSEN. GLSEN focuses on getting districts to adopt policies that will keep parents in the dark on their child's in-school gender transition, providing sexually explicit books to schools for free, and integrating gender ideology at all levels of curriculum in public schools.
Target and Saavedra did not immediately respond to a request for comment.
"GLSEN leads the movement in creating affirming... and anti-racist spaces for LGBTQIA+students. We are proud of 10+ years of collaboration with GLSEN and continue to support their mission," Target said. The retail giant provides annual donations to GLSEN, which has amounted to at least $2.1 million.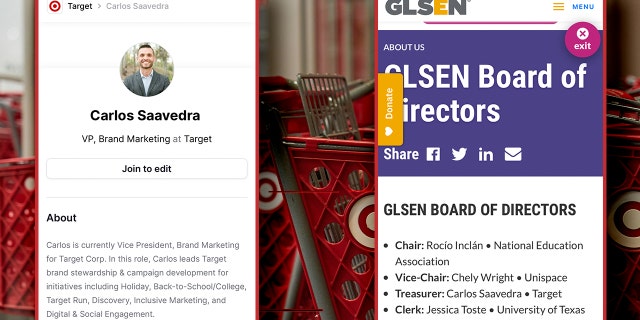 The retail giant did not immediately respond to a question on who was behind the decision to collaborate with GLSEN.
K-12 CURRICULUM 'SOCIALLY ENGINEERING' MILLIONS INTO ENRAGED YOUNG 'SOCIAL JUSTICE WARRIORS,' PARENTS WARN
As part of this mission, GLSEN calls for gender ideology to be integrated into all classes, even math. It provides educators instructions on how they can make math "more inclusive of trans and non-binary identities" by including "they/them" pronouns in word problems.
GLSEN provides sample district policies which restrict parents' knowledge on their child's gender transition in schools.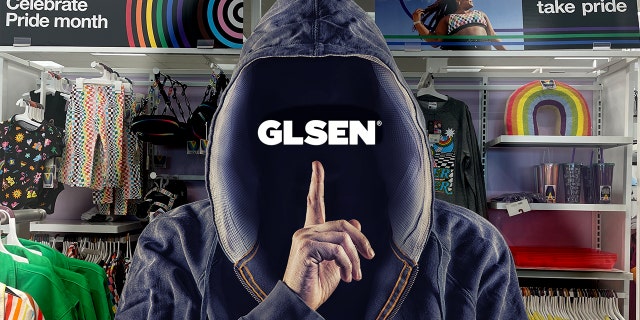 Its policy for districts said, "[The local education agency] shall ensure that all personally identifiable and medical information relating to transgender and nonbinary students is kept confidential"
The policy continued, "Staff or educators shall not disclose any information that may reveal a student's gender identity to others, including parents or guardian… This disclosure must be discussed with the student, prior to any action."
GLSEN also provides books to full-time school employees for free, including some which contain sexually explicit content.
CHRISTIAN TEACHER LOSES JOB AFTER REFUSING TO DECEIVE PARENTS ON KIDS' GENDER TRANSITIONS: 'FROM THE DEVIL'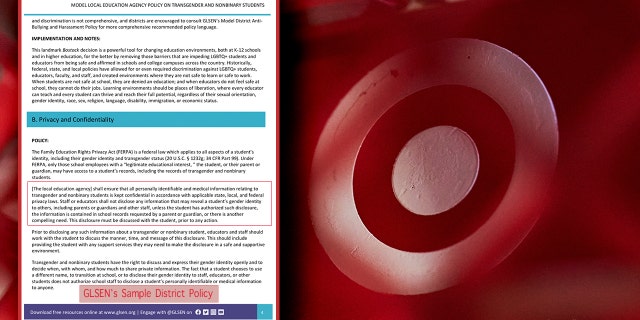 BIDEN PARTNERED WITH ORGANIZATION WHICH QUESTIONED PARENTS' RIGHTS TO BE NOTIFIED ABOUT THEIR KIDS' TRANSITION
Target has faced backlash for its LGBTQ Pride merchandise, compelling it to move their collection away from the front of some locations after customer "outrage" to avoid a "Bud Light situation."
Many Target locations across the country feature "tuck friendly" bathing suits for transgender people to mugs that say "gender fluid." But the retail juggernaut has been criticized by some conservatives for the displays, with children's items particularly irking many customers.