Europe Enters Recession After Data Revisions Paint Far Gloomier Economic Picture
The US may have avoided a technical recession so far, but Europe's run has just ran out: according to the latest data revisions by European statistics agency Eurostat, the euro zone economy was in a technical recession in the first three months of 2023, after downward revisions of growth in both the first quarter and the final quarter of 2022.
Gross domestic product for the 20-country euro zone fell by 0.1% in the first quarter compared with the fourth of 2022 and was 1.0% up from a year earlier, Eurostat said in a statement. This was the second consecutive 0.1% decline (after the Q4 2022 GDP print was also cut to -0.1% from a previous reading of zero) and the first six-month contraction since the Covid-19 pandemic lockdowns as a technical recession was confirmed.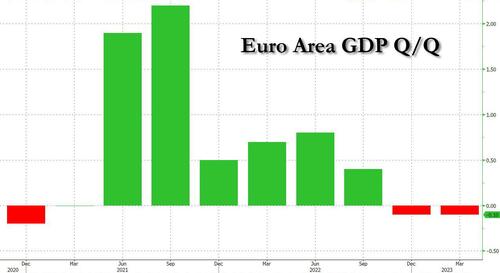 https://www.zerohedge.com/markets/europe-enters-recession-after-data-revisions-paint-far-gloomier-economic-picture