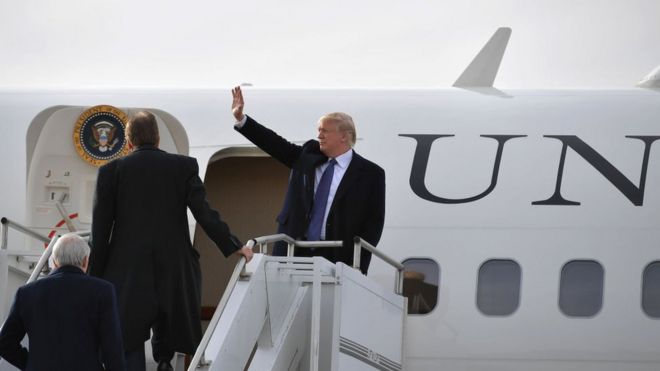 President Donald Trump has reached an informal deal with Boeing to provide two Air Force One planes for $3.9bn (£2.8bn), the White House has said.
A White House spokesperson said the agreement would save US taxpayers more than $1.4bn.
The deal follows a row over the cost of the planes. In December 2016, Mr Trump said they were too expensive and the order should be cancelled.
Boeing said that Mr Trump had "negotiated a good deal".
In a statement, the US aerospace giant said: "Boeing is proud to build the next generation of Air Force One, providing American Presidents with a flying White House at outstanding value to taxpayers".
A Boeing official said the price included fitting out the two 747-8 planes with a communications suite each, internal and external stairs, and large galleys and other equipment.
In addition, there are structural changes that have been made to the aircraft "to protect and sustain the president and those on board for an extended period of time", the official said.
The planes are designed to be an airborne White House, able to fly in worst-case security scenarios, such as nuclear war, and are modified with military avionics, advanced communications and a self-defence system.