A YouTube video of Xinjiang detention facilities has rekindled concern over China's crackdown on ethnic minorities. Researchers say the videos offer new evidence, but many fear for the vlogger's safety.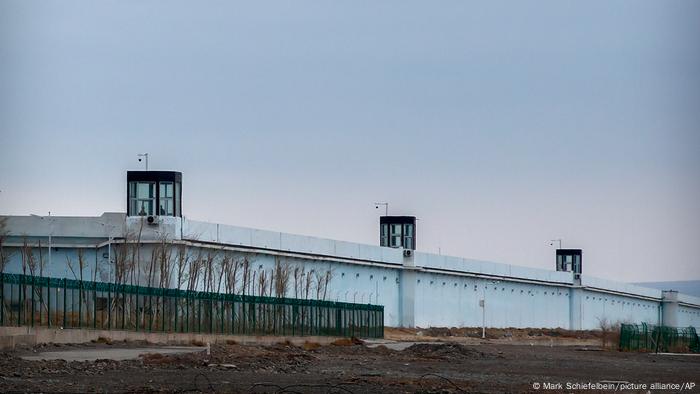 Beijing has described the mass detention of roughly a million or more ethnic minorities in Xinjiang as a 'war against terror'
A 20-minute video featuring more than a dozen detention facilities in China's Xinjiang Uyghur Autonomous Region has offered fresh evidence and renewed the discussion around China's large-scale crackdown on ethnic minorities in the region.
The video was filmed by a Chinese man named Guanguan, who went to Xinjiang after reading a series of articles from US news outlet BuzzFeed News, indicating the locations of several detention centers in the region.
His video, which was originally posted to YouTube in October, has attracted the attention of researchers and academics who have been focusing on China's large-scale crackdown on ethnic minorities in Xinjiang. Alison Killing, an architect who worked with BuzzFeed News to create a map of satellite images of the camps, said the new information from the video confirms what they believe to be happening in Xinjiang.
"When you are working with satellite images, you are always relying on other sources of information to corroborate what you are looking at," she told DW. "It can be on-the-ground videos, which is what we see here."
Other forms of corroboration that researchers like Killing rely on include interviews with former detainees and information from journalists who visit the detention facilities. She added that Guanguan's video helps to confirm whether many facilities are prisons or detention centers.
Rayhan Asat, a Uyghur human rights lawyer and senior fellow at the Atlantic Council's Strategic Litigation Project, said the unfiltered video footage adds to the ongoing documentation of the crackdown that is taking place in Xinjiang and "defeats the state propaganda and disinformation of 'Happy Uyghurs.'"
"I hope more Chinese people like this gentleman will stand up for their fellow citizens," Asat told DW.