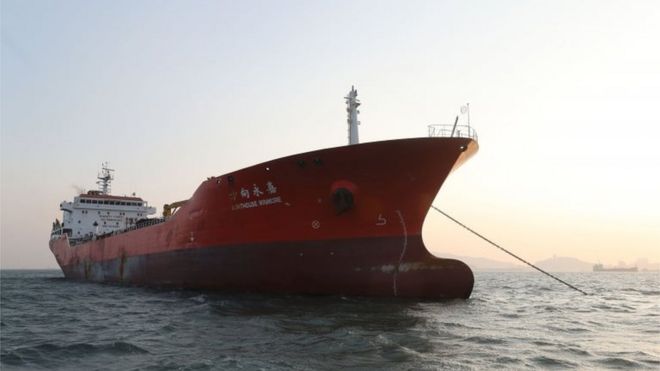 South Korea has revealed it seized a Hong Kong-registered ship last month suspected of supplying oil to the North in breach of international sanctions.
Officials said the Lighthouse Winmore had secretly transferred 600 tonnes of refined oil to a North Korean ship.
A UN Security Council resolution bans ship-to-ship transfers of any goods destined for Pyongyang.
The revelations came as China denied claims by President Donald Trump it had allowed oil shipments to the North.
What happened with the Lighthouse Winmore?
But instead of going to Taiwan it transferred the oil to a North Korean ship and three other vessels in international waters on 19 October, South Korean officials were quoted as saying.
This defies a UN Security Council resolution imposed on 11 September that prohibits all ship-to-ship transfers with North Korea.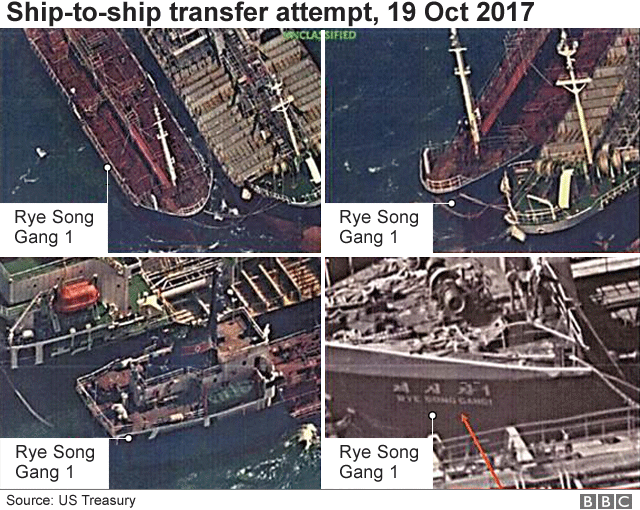 The Lighthouse Winmore was seized when it returned to Yeosu in November and remains in South Korea, South Korean officials said.
Was China involved?
There is no evidence as, although the Lighthouse Winmore is Hong Kong-flagged, it was leased by a Taiwanese company.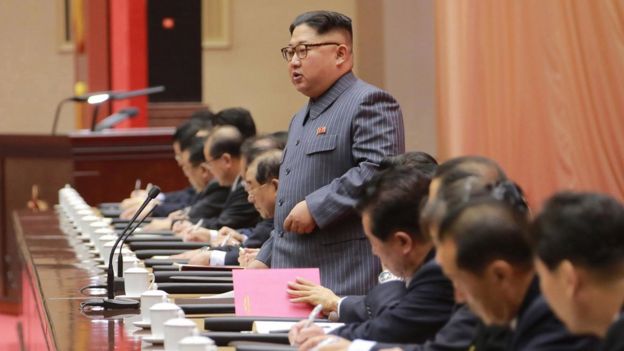 The Chinese government said the accusations against it were "not consistent with the facts".
"China has never allowed Chinese enterprises nor individuals to violate UN Security Council resolutions imposed on the DPRK," foreign ministry spokesperson Hua Chunying said.
China handles about 90% of the North's foreign trade.
Why was Trump riled?
There has been increasing suspicion in Washington that Chinese ships have been secretly transferring petroleum to North Korean vessels at sea.
On Thursday, Mr Trump tweeted he was "very disappointed" with China, which he said had been "caught red-handed".
Quoting South Korean government officials, the report said the illegal ship-to-ship transfers had been filmed by US spy satellites about 30 times since October.
He said: "Oil is going into North Korea. That wasn't my deal. If they don't help us with North Korea, then I do what I've always said I want to do."
Is oil part of the sanctions against the North?
The measures address the "illicit imports of petroleum through deceptive maritime practices by requiring Member States to seize, inspect and freeze any vessel in their ports and territorial waters for involvement in prohibited activities".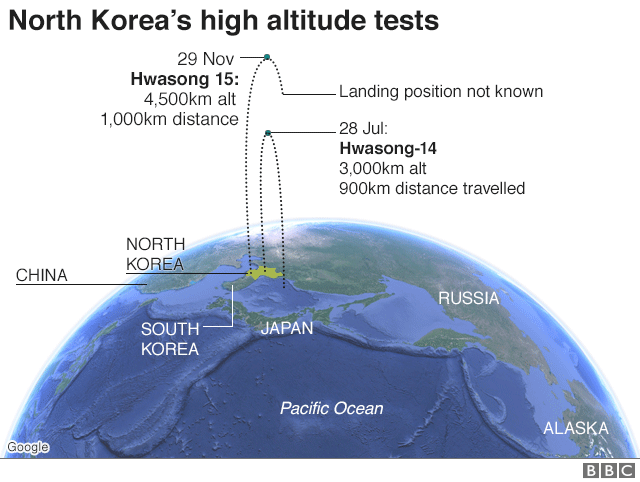 On Thursday, the UN Security Council also denied international port access to four more North Korean ships suspected of carrying banned goods, AFP reported. It would bring the total number of ships blocked by the UN to eight.
North Korea is already subject to a raft of sanctions from the US, the UN and the EU.
The latest round was sparked by the 29 November launch of a ballistic missile, which flew higher than any other the North has tested.
Mr Trump has previously threatened to "totally destroy" North Korea if it launches a nuclear attack. North Korean leader Kim Jong-un has described the US president as "mentally deranged".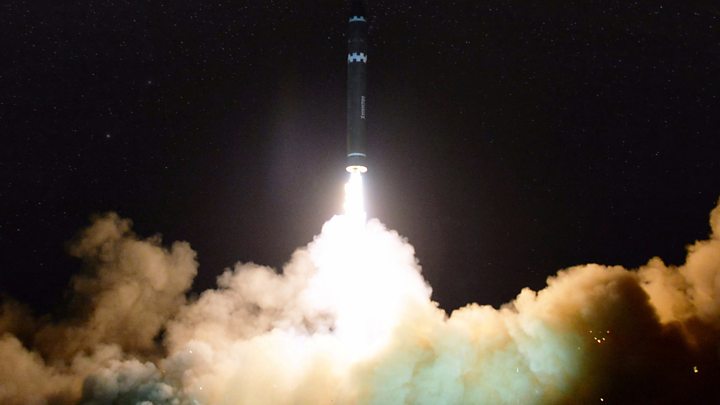 Have previous sanctions worked?
They have been imposed for more than a decade with little success.
In fact, North Korea has said fresh sanctions will only make it accelerate its nuclear programme. It has continued to test nuclear and ballistic missiles despite these recent examples of UN pressure:
30 November 2016: UN targeted North Korea's valuable coal trade with China, slashing exports by about 60% under a new sales cap. Exports of copper, nickel, silver, zinc and the sale of statues were also banned
What happened next? On 14 May 2017, North Korea tested what it said was a "newly developed ballistic rocket" capable of carrying a large nuclear warhead
2 June 2017: UN imposed a travel ban and asset freeze on four entities and 14 officials, including the head of North Korea's overseas spying operations
What happened next? On 4 July, North Korea claimed it had carried out its first successful test of an intercontinental ballistic missile (ICBM)
6 August 2017: UN banned North Korean exports of coal, ore and other raw materials and limited investments in the country, costing Pyongyang an estimated $1bn - about a third of its export economy
What happened next? On 3 September, North Korea said it had tested a hydrogen bomb that could be miniaturised and loaded on a long-range missile