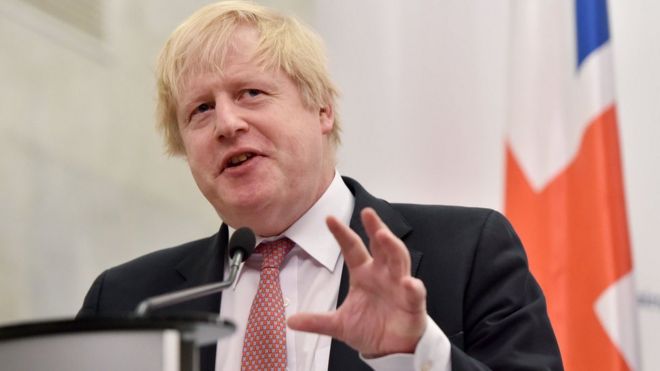 The UK's aid budget will be shifted to projects that promote its interests, the foreign secretary has said.
Boris Johnson said the money will be "more sensibly distributed" to support foreign policy aims such as denying safe havens to Islamist militants.
His comments came as Penny Mordaunt, the international development secretary, said the UK will provide a £21m boost to an emergency aid fund.
The UK currently spends £13bn on aid each year.
Speaking to the Times newspaper, Mr Johnson said "the old jam jars are being smashed" and money would be diverted to support government aims, including combating terrorist groups in Africa.
It would also go to help refugees in Yemen and Rohingya Muslims fleeing across the Burmese border into Bangladesh, he added.
The government is committed to spending 0.7% of national income on overseas aid but some politicians oppose such spending.
Conservative backbench MP Peter Bone has said the target "means that important things at home like social care are struggling," while Ukip have called for the aid budget to be cut by 80% and focus only on emergency responses and eradicating disease.
Labour backs the 0.7% target, saying global poverty reduction is itself in the UK's interest.

Analysis
By Emma Vardy, BBC political correspondent
For years there have been calls from some MPs for Britain's foreign aid budget to be cut, and the subject provides a steady stream of headlines in the right-leaning press.
Priti Patel said too much of Britain's aid money was wasted, or spent poorly, when she was international development minister.
The government recently suspended a £12m aid programme to Syria after a BBC investigation revealed the cash was at risk of going to jihadist groups.
And before the 2017 General Election there were suggestions that Theresa May was planning to revise the 0.7% spending target, but eventually it remained unchanged.
Mrs May says she is "proud" of the UK's record on foreign aid while Labour, the Lib Dems and SNP are also committed to keeping the 0.7% target.
Mr Johnson's promise to spend foreign aid more wisely may improve confidence, but for the harshest critics it will not go anywhere near far enough.
Many will continue to argue that in a time of economic difficulties for the UK, money spent abroad could be used to help tackle health and social care funding problems at home.

Mr Johnson said the UK would gain more control of its aid spending after Brexit.
About £1bn of the money the UK pays to the EU budget counts as part of the foreign aid budget.
The EU spends that money on humanitarian aid and on emergency responses to world crises, as well as on projects in countries close to the EU and those hoping to join in the future.
Ms Mordaunt said that the extra £21m for the United Nations' Central Emergency Response Fund (CERF) was needed because 2018 could be "even bleaker" than this year, with its "harrowing" humanitarian crises.
The money will hep to provide millions of people with food, clean water, sanitation and vital health services.

Where does UK aid go?
As of April 2017:
More than 40% of the budget went to multilateral organisations, such as the United Nations, who fund big projects like disaster relief
The remaining 60% goes directly to developing countries
The Department for International Development says the biggest regional beneficiary is Africa, which received a total of £2.54bn from the UK last year
Ethiopia, Sierra Leone, South Sudan and Syria, were each given more than £200m