BUSINESS
A deeper dive into the gray market has meant that Russians continue to have access to such goods as iPhones and Zara dresses even months after their Western makers left Russia. But are these parallel imports even legal?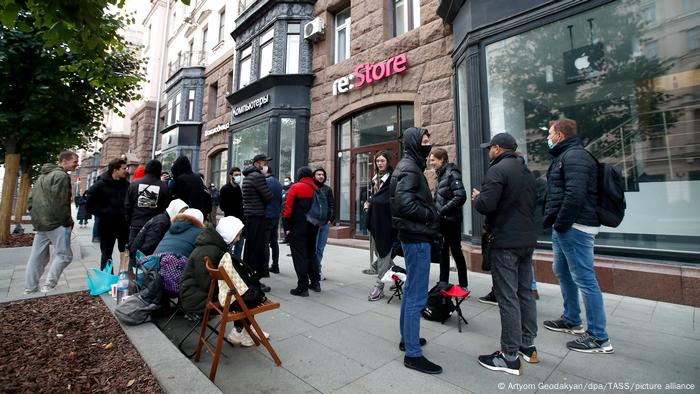 Apple reseller in Russia re:Store continues to be well stocked with latest iPhone models thanks to parallel imports
Russia has been importing goods without the consent of their Western manufacturers for months. It's part of a scheme aimed at helping the country bypass supply restrictions put in place by Western countries and companies in response to the invasion of Ukraine.
Parallel imports, or gray-market purchases, into Russia totaled $6 billion (€5.9 billion) from May to July, Denis Manturov, Russia's deputy prime minister and minister of industry and trade, told reporters this week.
Russia launched the parallel imports scheme, covering goods ranging from auto parts to gaming consoles, in May as imports slumped due to Western sanctions and scores of foreign companies left its shores in protest against the war in Ukraine and to avoid any potential reputational damage.
"Russia is not going to do nothing in response to Western sanctions. So, it obviously has procedures in place to try and get a lot of critical imports that it needs to sustain the economy and maintain the war," Timothy Ash, an emerging-market strategist from BlueBay Asset Management, told DW. "The question mark and challenge will be what the West will do to try and tighten the sanctions regime to stop that from happening."
What are parallel imports?
Parallel imports refer to goods that are imported into a market without their manufacturers' consent. To be clear, they are authentic goods, but they may be meant by the manufacturer to be sold in a different country or region.
For example, if a pair of Levi's jeans produced, packaged and priced for the Indian market is imported by a reseller to be sold in Germany outside of the apparel maker's certified distribution channels, then that's a parallel import.
Such imports are deemed to be on the gray market as they are sold by unauthorized dealers. Since brand owners have no control over the distribution of these goods, they are not covered by their warranty plans.