Years after the Yazidi massacre by the "Islamic State," tens of thousands of survivors still aren't able to return home. In Iraqi Kurdistan, a German aid worker is trying to help these refugees.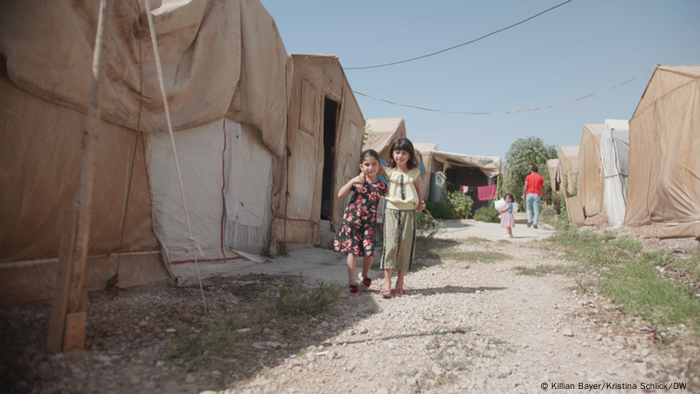 Thousands of Yazidis still live in refugee camps far from home
A wide gravel road extends into the distance and blurs into the horizon. To the left is a sea of corrugated metal containers and electric poles — beyond that, nothing. This is where the Mam Rashan camp ends.
The refugee camp in the Nineveh district of the autonomous Kurdistan region is like a small town. Over 1,500 Yazidi families live here. Jan Jessen, a German journalist and development aid worker, is a regular visitor to the area in northern Iraq.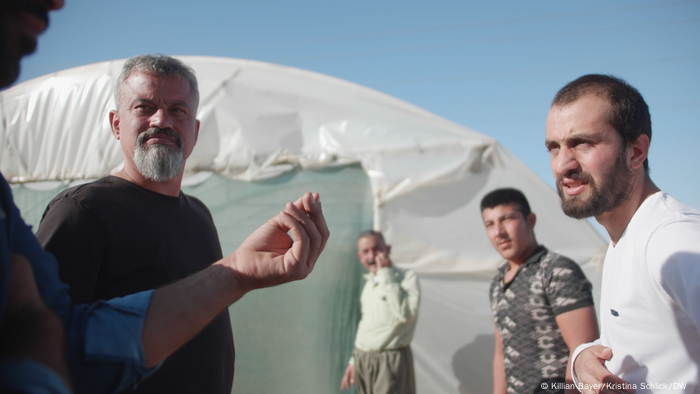 German aid worker Jan Jessen (left) is a regular visitor to the region
Today, he's meeting up with Mezafar Berges Matto, a friendly Yazidi man in his late 30s who seems much older. He and his family were just able to escape "Islamic State" (IS) terrorists and have been living in Mam Rashan since December 2015.
They sit in their living room, a small 10-square-meter area about the size of a car parking space with a walnut-colored PVC floor and an unpleasant blue light filtered through cigarette smoke. As a group of wide-eyed children turn up — some belonging to Berges Matto, some from nearby homes — his wife serves tea and water.