Mike Pompeo's designation of Houthis as foreign terror group will block food and other aid, senior humanitarian says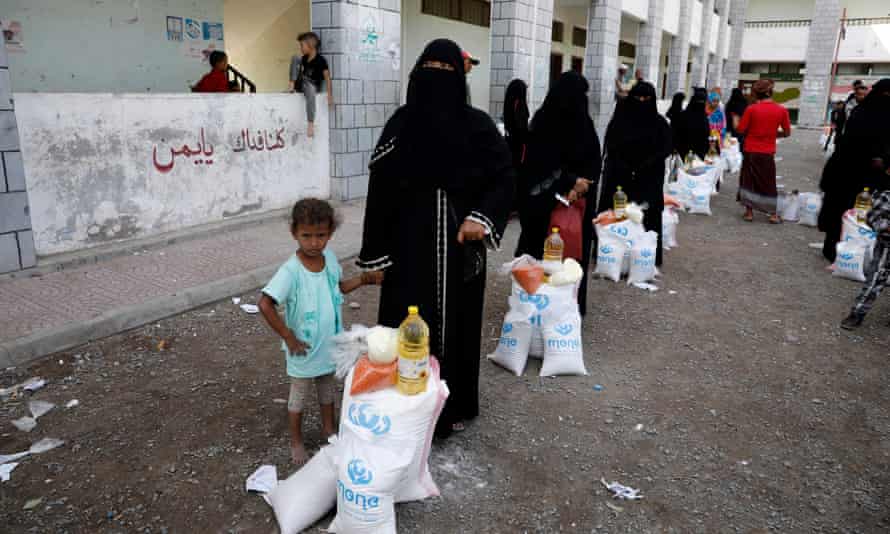 Yeminis collecting their family's aid rations in the port city of al-Hudaydah. The UN is warning that the cost of food is likely to rise by as much as 400%.

Photograph: Yahya Arhab/EPA
The US designation of the Houthi movement in Yemen as a terrorist organisation is likely to lead to a famine on a scale not seen for 40 years, the UN's most senior humanitarian official has said.
Mark Lowcock, director general of the United Nations Office for the Coordination of Humanitarian Affairs called for the decision to be reversed, saying the cost of food was likely to rise by as much as 400%, way beyond the reach of many aid agencies.
The US secretary of state, Mike Pompeo, designated the Houthis, also known as Ansar Allah (Supporters of God), as a foreign terrorist organisation on Sunday, causing protests among NGOs worried that this would make it impossible for them to send food and other aid into Yemen.
In a speech to be given to the UN on Thursday, Lowcock, the first UN official to call for a reversal of the US designation, predicted a disaster, saying Yemeni commercial traders were already walking away from providing food because the risk was too high.
He said: "Yemenis are crowding into markets and shops to stockpile whatever they can afford. Families are terrified that no more food or other supplies will make it into the country."
He said Yemen imported 90% of its food, nearly all of that through commercial channels, and that aid agencies gave Yemenis vouchers or cash to buy commercially imported food in the market. "Aid agencies cannot – they simply cannot – replace the commercial import system," he said.