Gerhard Schröder, who works for oil giants Gazprom and Rosneft, has been pressed to disavow the war in Ukraine. His silence has caused some of his staff to quit in protest and business partners are distancing themselves.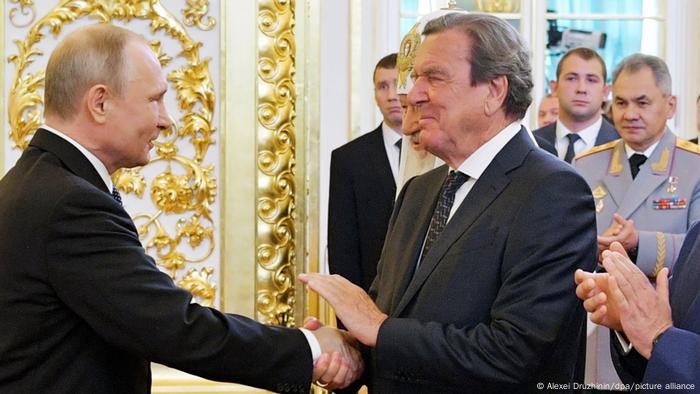 Schröder called Putin a 'perfect democrat' in 2004
Former German Chancellor Gerhard Schröder found himself on Tuesday increasingly pressed to distance himself from his close relationships to Russian businesses and leaders following Thursday's invasion of Ukraine.
A member of the center-left Social Democrats (SPD), Schröder was the head of Germany's government from 1998 to 2005. Since leaving office, he has parlayed friendships with Moscow's elite, including President Vladimir Putin, into high-profile jobs at Russian oil giants like Gazprom and Rosneft.
He was also on the board of Nord Stream 2 AG, a pipeline project that would have brought Russian gas into Germany but was blocked last week by Chancellor Olaf Scholz, a Social Democrat.
In the past week, calls have been mounting for Schröder to disavow Putin and the war in Ukraine. On Tuesday, all four of his staff members in Germany's parliament, the Bundestag, quit, reportedly over his refusal to do so.